News
Spacio talks office trends 2022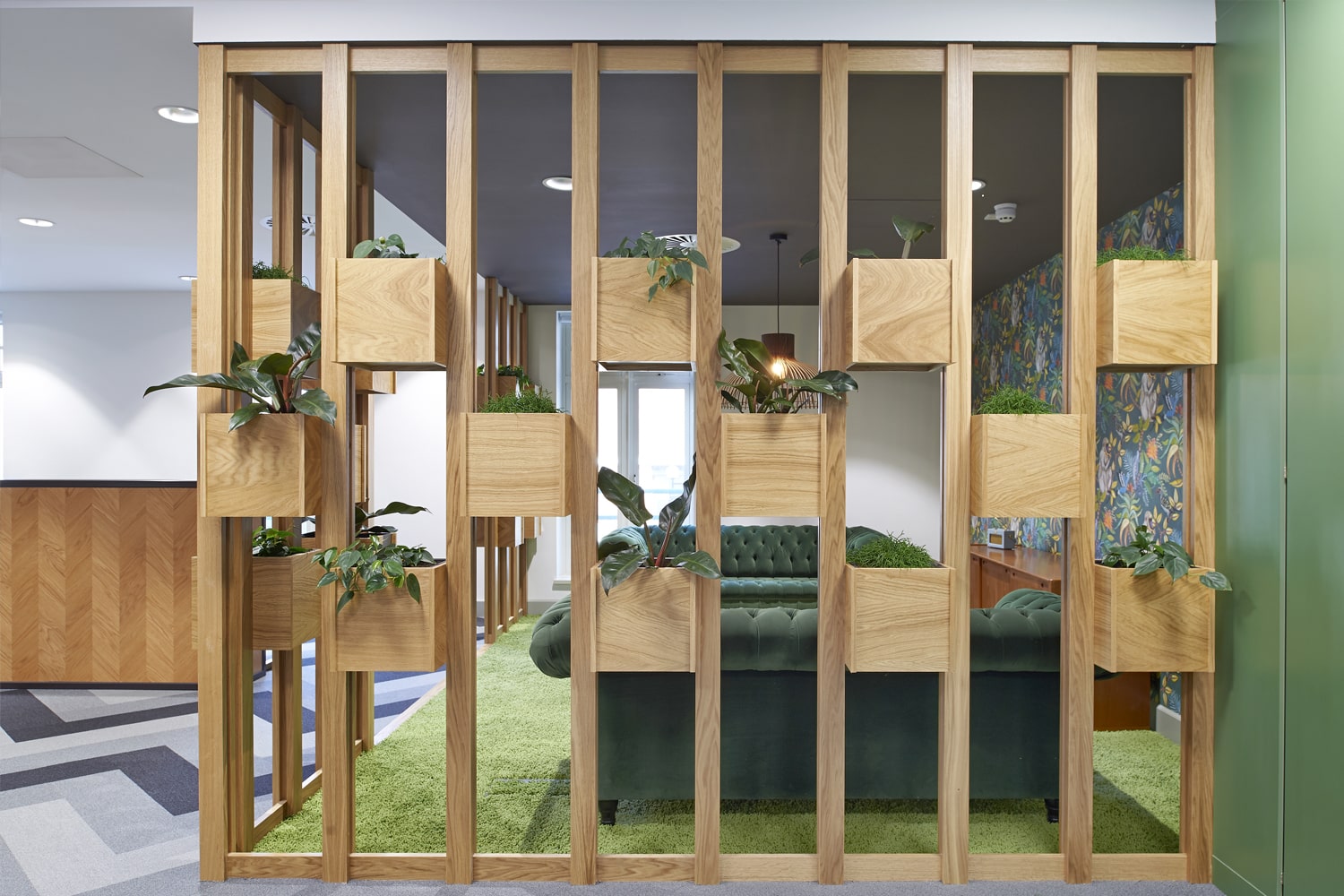 Spacio looks at the trends that will define and optimise our office spaces for the coming year.
Many companies had to think on their feet when Covid forced millions of employees to work from home (WFH) but it wasn't quite the revolution the media would have us believe. The world of work was changing long before Covid arrived, and that evolution is set to continue.
More than ever, corporations and employees alike understand that comfortable and stimulating workplaces which put employees' wellbeing front and centre will not only help attract and retain the best talent post pandemic, they will also be more agile and productive.
Thoughout our twenty years' experience in creating intelligent spaces for corporates and public sector organisations, Spacio has put our clients' business aims and corporate personality at the heart of the intelligent spaces we create and design. There are no out-of-the-box solutions, but meticulously developed working environments that enable teams to flourish and boost their productivity, whilst incorporating the key design trends 2022.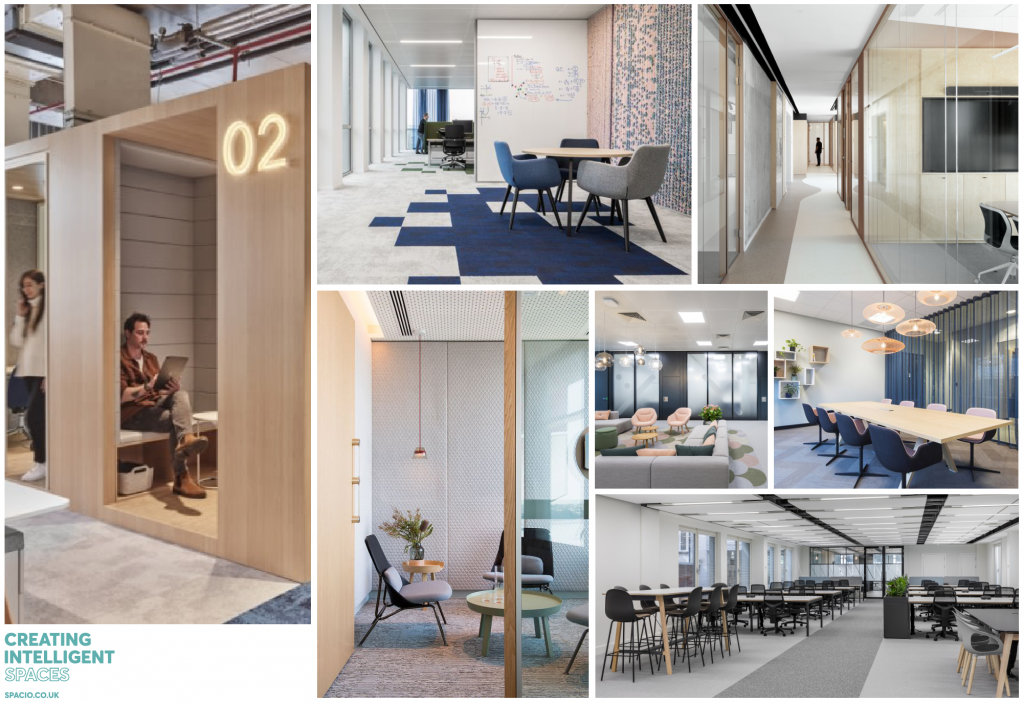 The rise of co-working spaces in 2022
The Covid-driven WFH and hybrid working trends saw many employees who didn't have home offices lean heavily on co-working spaces throughout this time.
These decentralised, smaller offices often offer less formal environments for remote workers, and are an eye-opening introduction to a whole new approach to office design.
Coworking spaces not only rip up the office space rulebook, they demonstrate the workplace can be a creative, collaborative and calm environment – with smart office design at the centre of it all.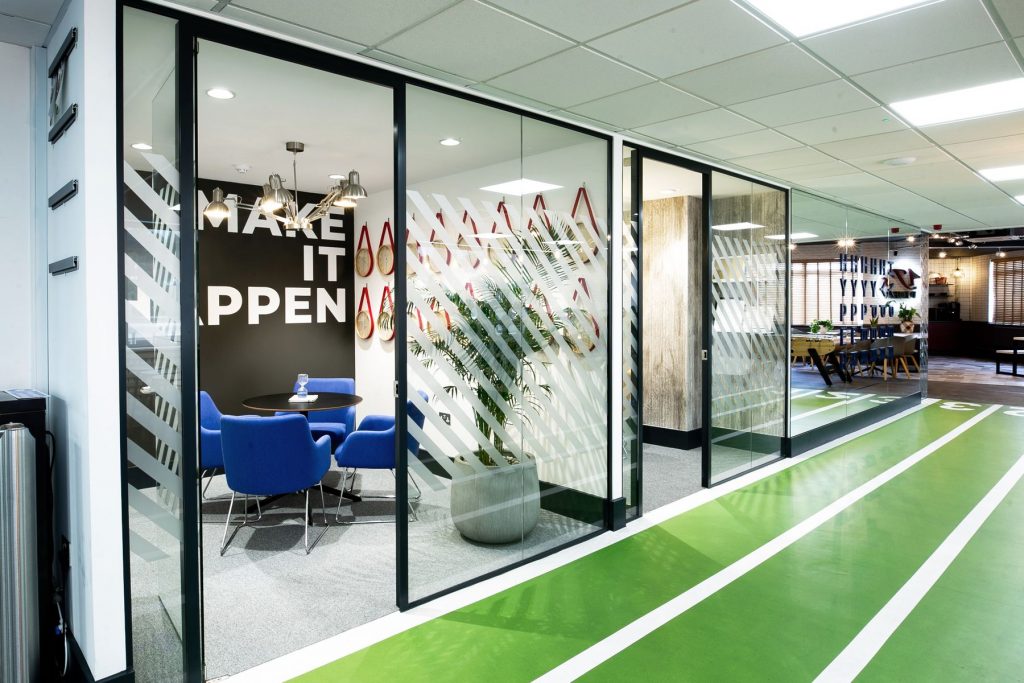 Fewer in-office staff means those banks of desks and computers could be swapped for a breakout or a games area, boosting your team's mental health.
It's worth considering, as 70% of companies, from small businesses to large corporations, are set to adopt a hybrid model by 2022, according to the National Bureau of Economic Research.
Office trends for 2022
More and more companies are discovering that the office environment has to provide more than just a computer, desk, chair and a phone.
These days, office design aims to create a blend of stimulating and productive areas that co-exist alongside open spaces and quieter areas.
We achieve that by asking a range of questions about the company itself: who they are and what they want to achieve, and marrying that with the latest office trends as appropriate.
The modern style design trends 2022
The modern style of office design is driven by functionality, and follows the open space principle, dividing the space into various zones, while teams are comfortably grouped within them, facilitating maximum concentration.
The latest trends include very few locked doors, spacious meeting rooms to encourage community collaboration, less full-height blank walls, with spaces being broken up with flexible solutions.
Other elements include shelving doubling as a storage solution and a way to make pockets of privacy, paired tables, in which two employees sit opposite each other, and laptops, rather than desktop computers, in keeping with the minimalist aesthetic.
Our work with Cambrionix is an example of how intelligent design and a deep understanding of a company's requirements resulted in a modern space that is both productive and relaxing.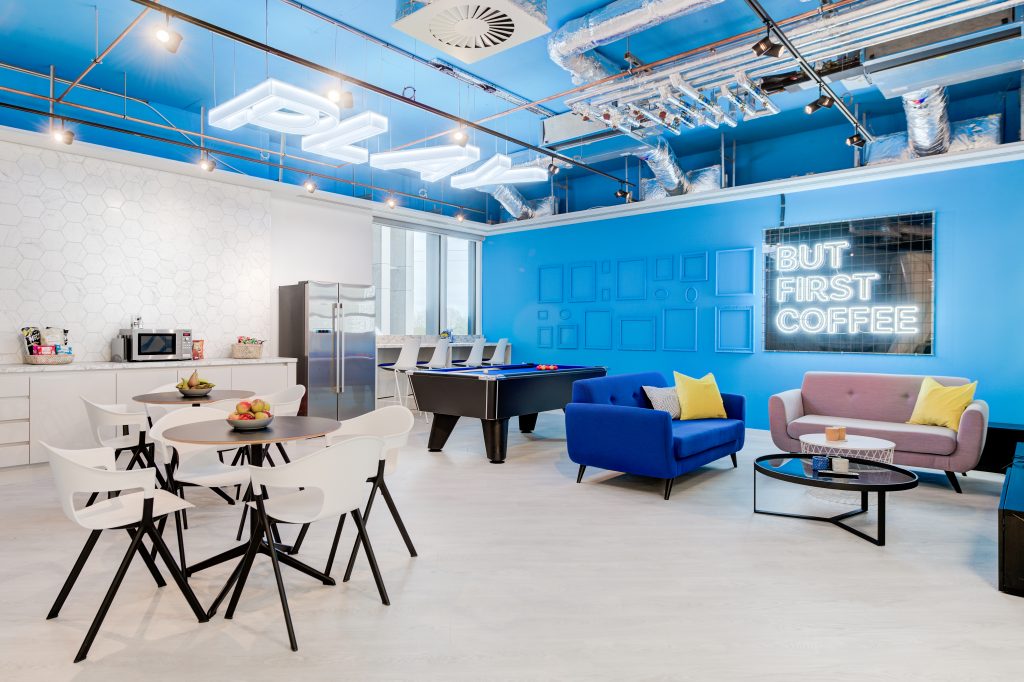 Time to let in the light
Lots of natural wood furniture and panoramic windows that let in plenty of natural light are two of the most common hallmarks of the classic office space.
Panoramic windows are particularly effective in high-rise or skyscraper buildings as they allow the outside (usually stunning) landscape to become a part of the office environment. This collaboration with the Port Authority of London is a great example: the ultimate room with a view!
Some large windows can be fitted with special screens or venetian blinds to avoid glare, but you can soften the space with curtains made from light voiles or roller blinds.
Office colour trends for 2022
December means Christmas for many people but for designers, it's also the month when forecasting and colour consultancy Pantone unveils the colours fashion designers have been using in their 2022 collections, as well as its eagerly anticipated colour of the year, the lavender Veri Peri.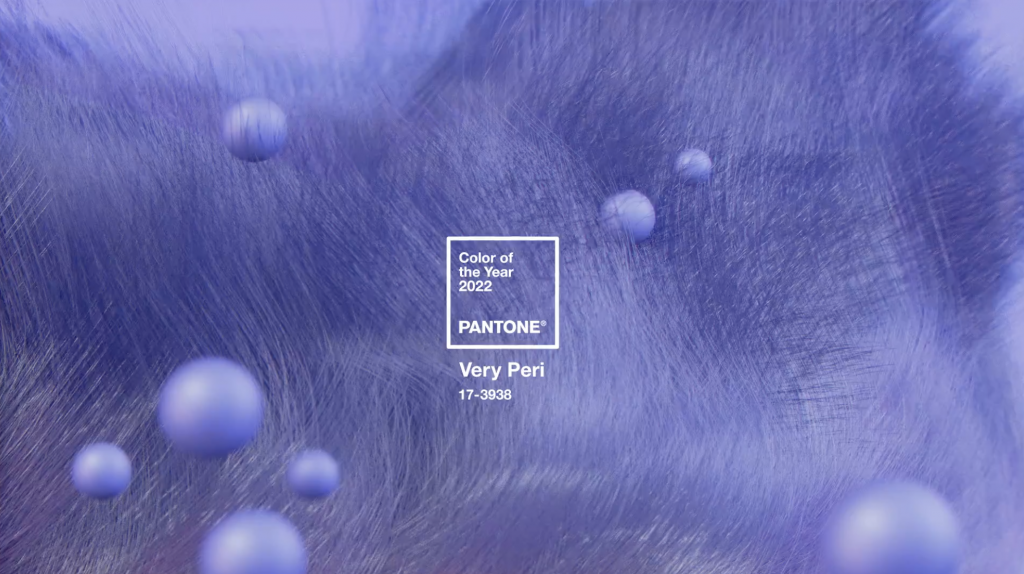 Pantone's influence extends beyond the catwalk – the colours it showcases will also inspire the interior design world too. The office trends 2022 palette is a beguiling mix of soothing, neutral shades such as Sudan brown and Hummus, balanced with bright colours including Bubblegum and and Fragile Sprout.
They feed into the interior design and decor trends for 2022:
Soothing, cool blues
Companies looking to provide a safe environment for their staff and promote maximum concentration should opt for a blue office, just as we did here, to impressive effect.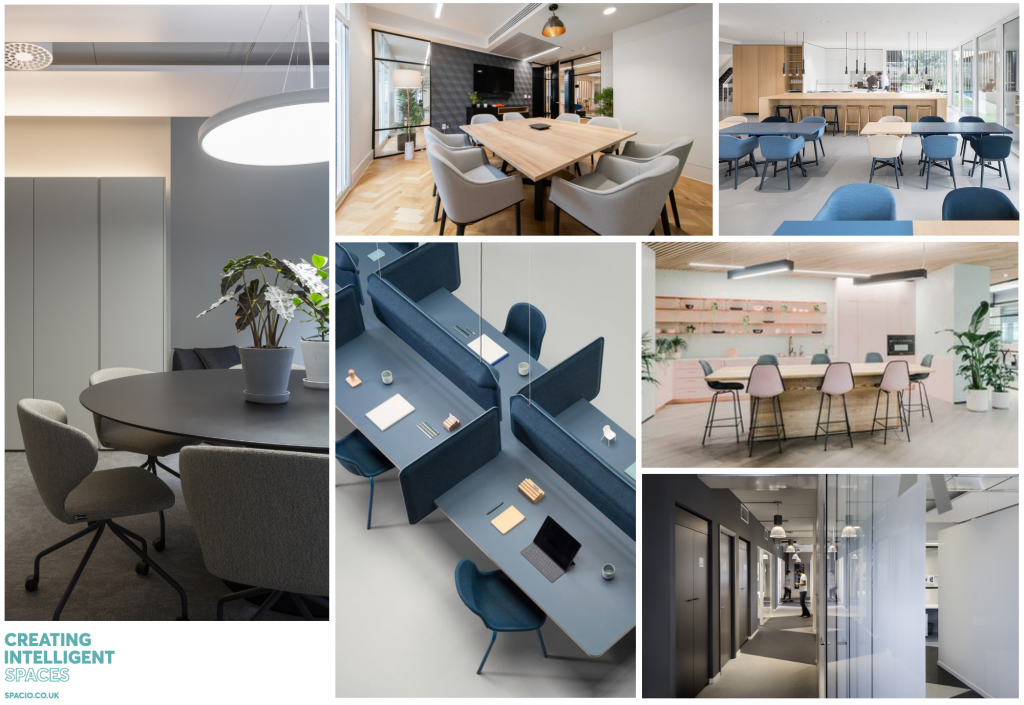 Natural greens
The ultimate stress-relieving colour, natural greens also help maintain motivation, but can also be combined with bright colours for a really punchy office decor.
Soft pinks
Pink has been part of the trend toward workspaces that echo the living space and generate a more relaxing mood. We think it works brilliantly as showcased in this refurbishment for APLI UK.
The extended period of homeworking has led to more companies seeking to create a more comfortable atmosphere, driving the shift from corporate office furniture and institutional greens or greys on the walls toward a more welcoming, coffee-lounge feel.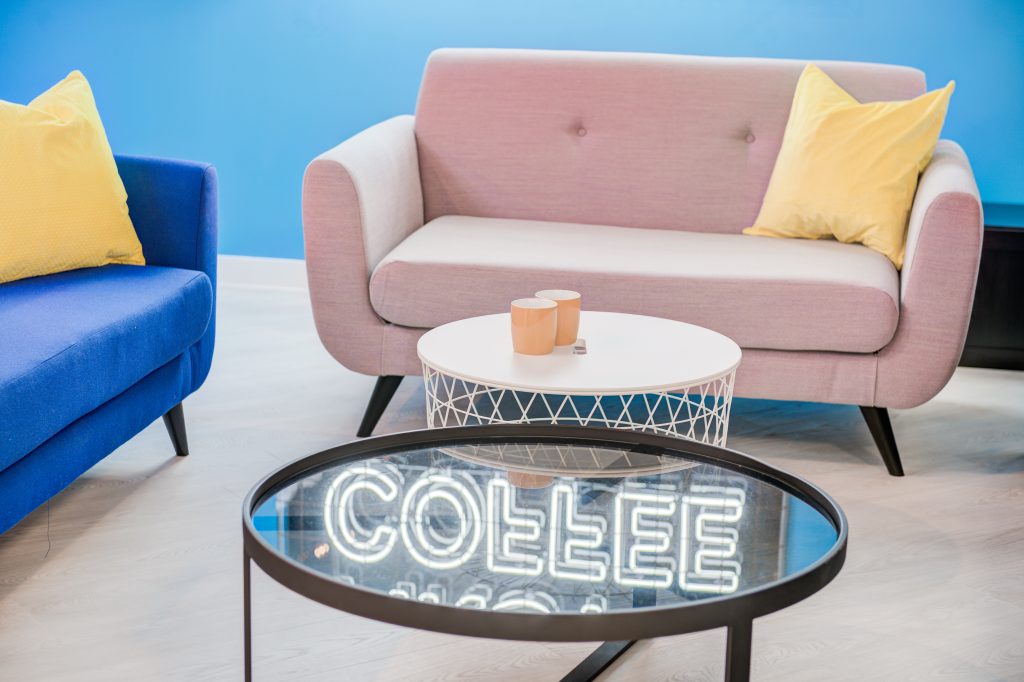 The reception in office trends 2022
When it comes to office ideas and integrating office trends for design, the reception area can sometimes be left out of the equation.
We know this space is every bit as important as a company's internal office space – after all you only get one chance to make a first impression.
Whether you're a San Francisco cosmetics company or a London-based hacking lab, your reception area is your business's shop front, and if you talk to us, the design possibilities are endless.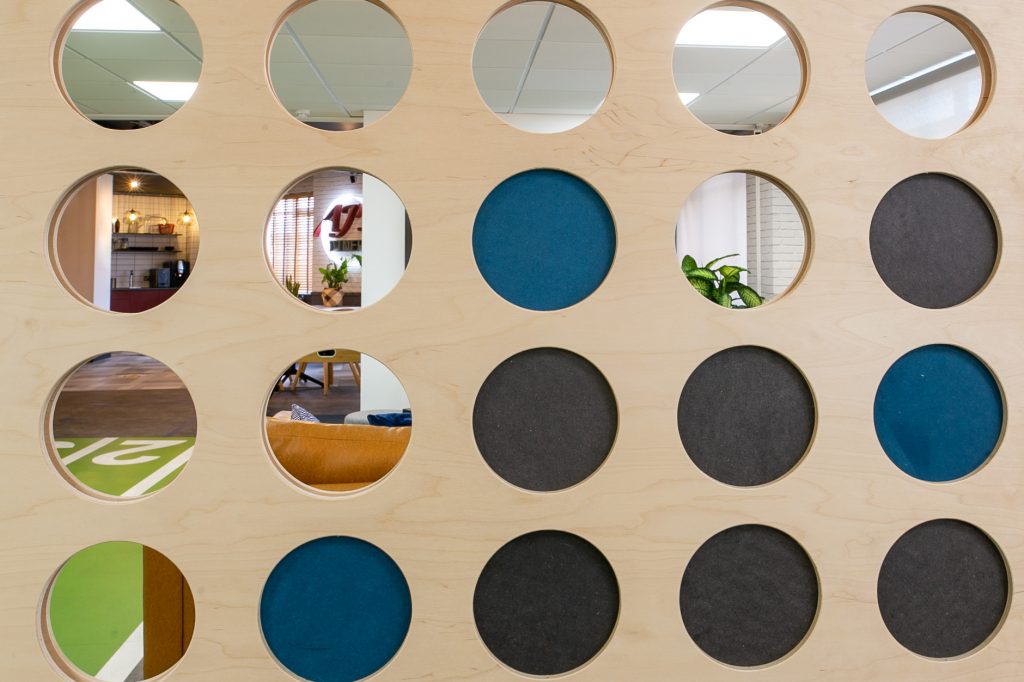 Depending on the space and the design choices you make throughout the rest of the office space, it can be a showcase for your palette of bright colours and contemporary furniture or maximise the existing infrastructure in your office building.
Flexible furniture: comfort and practicality at the same time
The growing adoption of flexible and hybrid work patterns has led to a sea-change in attitudes to office furniture, as well as the space it occupies.
Ranks or clusters of workplace desks in offices are being replaced by smart choices, such as desks that can be stowed away when not in use, while full or half-height partitions on wheels can be rolled out to offer privacy as and when required.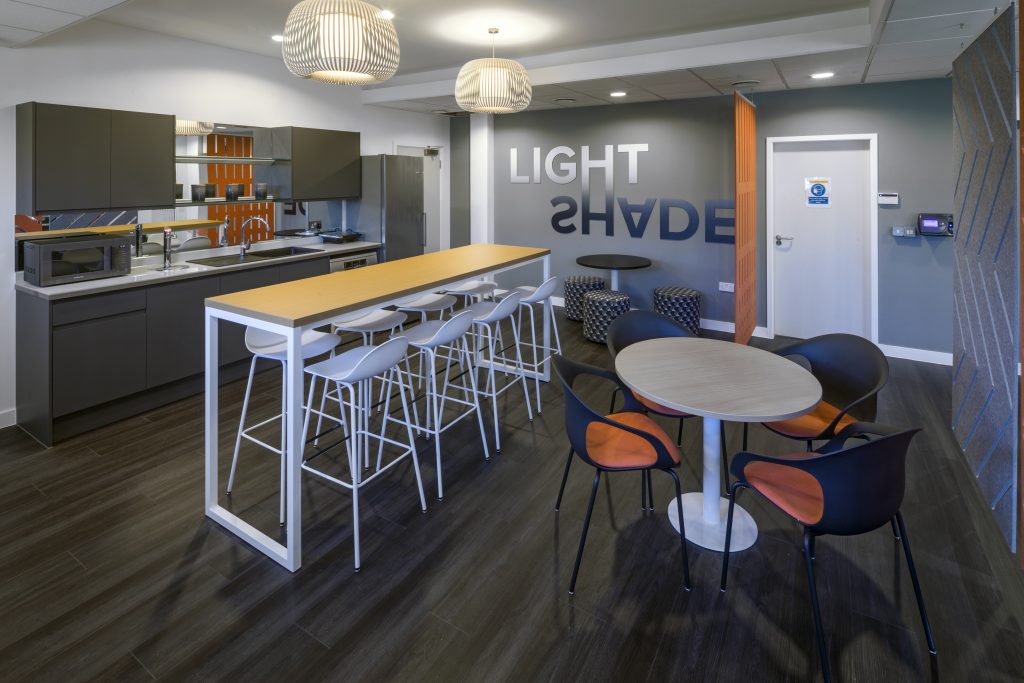 Modular and round tables or high bench systems enable dynamic group working and collaboration as seen in this revelopment of Essex Cares Hub & HQ. while at the other end of the scale, acoustic work pods can help solo workers and small groups concentrate.
As well as reducing background noise, they can also help people feel safe, particularly employees who have spent a long time working from home. For someone who may be slowly transitioning back to company life, they generate a sense of comfort and inclusion.
Dedicated relaxation and recreation areas will be key in 2022
Once again, office design ideas for 2022 will draw on the working from home and hybrid working trends, and that extends to where staff spend time in the office when they're not working.
A dedicated recreation space, often featuring natural light, is becoming an increasingly important interior design component as companies acknowledge their employees need to decompress and step away from their work.
Some have a separate room or even a gym where staff can chill out or play games, while others opt for shared spaces that foster a sense of calm and relaxation.
Office design ideas also must consider the kitchen. It should be fitted with a range of household appliances, including a kettle, fridge and microwave, while some companies offer free, quality coffee as a way to attract and retain talented staff.
The 2020 Leesman Index revealed 77% of people said tea, coffee and refreshment facilities were a highly important part of their physical environment.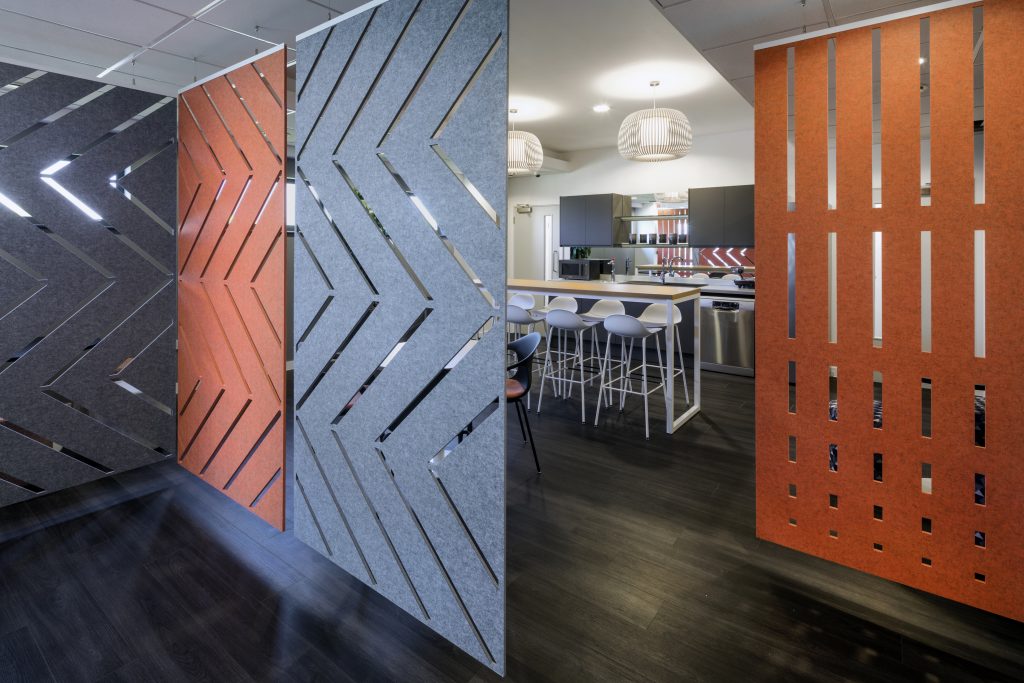 Technology in office trends 2022
Smart design will continue to be front and centre in next year's office trends, particularly furniture that charges smartphones and has built-in USB and HDMI sockets.
Another growth area is the transformation of meeting rooms that have sound proofing into 'Zoom rooms' (Microsoft Teams rooms also available!) while acoustic curtains that boost call ambience and reduce background noise at the same time are also set to be popular.
Keep an eye out too for acoustic pods, equipped with monitors, that can help remote-working staff stay connected to the wider company, and keep a direct link to their colleagues. They can also be used by staff looking to retreat from the general hubbub, supporting their mental health and productivity.
Biophilic design principles in 2022
Long ago, the company reception area was the only place where you'd see indoor plants, usually a straggling ficus or, even worse, a dusty silk arrangement.
One of the best office decor trends to have emerged in the past few years is the green office, and given the recent shift toward supporting wellness and mental health, lots of greenery makes lots of sense.
Biophilic offices combine natural light and plenty of vegetation, with natural wood, open spaces and nature-based artwork. Check out the greenery in our office design for New Homes Law.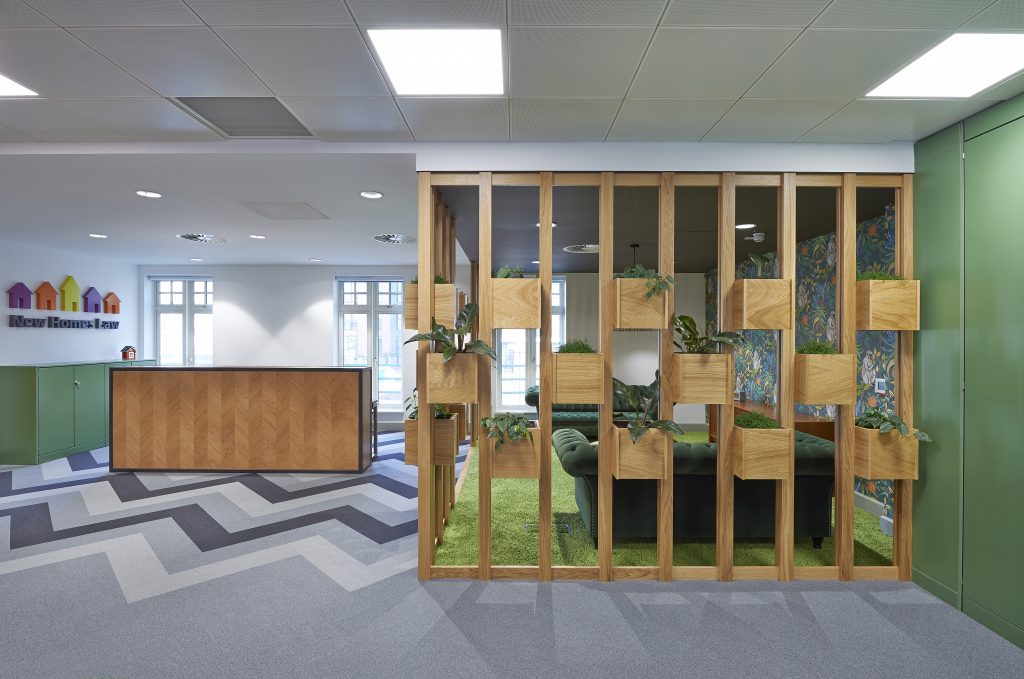 Incorporating greenery has become one of the main principles behind smart office design. It can be used to improve air quality, or provide a softer way to define workspaces, with taller, bushier plants used to screen off open space areas at the same time as partitions.
When combined with natural materials, they create an office space that is both pleasing and productive: in other words biophilic offices are beneficial to everyone's well being.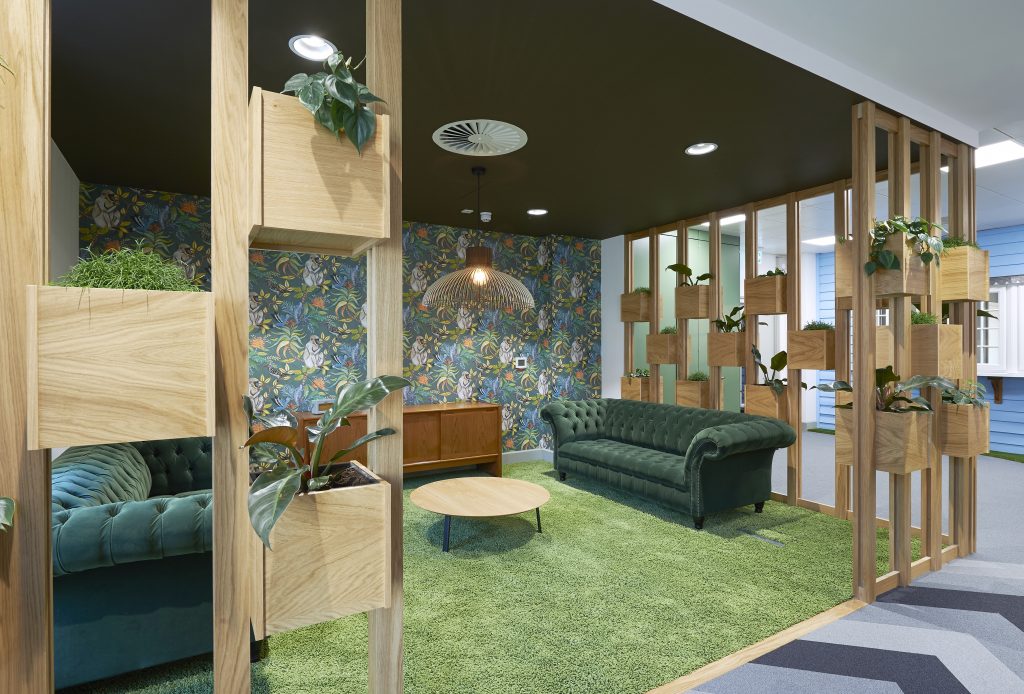 Office trends 2022 and sustainability
Incorporating greenery into office decor goes beyond adding a few (real) indoor plants, and sustainability will continue to be a must have feature of interior design as we look ahead to office trends 2022.
The influence of WFH and coworking spaces will continue to drive the use of natural elements, such as wooden desks and other natural resources, to make a green office.
They can be combined with sustainable materials, such as bamboo, cork or reconstituted veneers, and inclusive touches such as using vegan leather on furnishings, as we provided for Rickard Luckin's head office in Chelmsford.
Sustainable office decor doesn't have to be the sole preserve of large companies with deep pockets, resourceful interior designers can find upcycled and recycled gems to furnish offices.
Taking a greener, sustainable approach to office spaces can help create a pleasant, productive environment for all employees – and that can only be good news for business.
Turning your office from a dream into a reality
If you're planning to give your offices an overhaul in 2022, update a classic style or move to new premises, talk to our in-house Spacialists.
They will get a thorough understanding of your business, motivating factors and budgets behind the design vision for your offices before coming up with a plan that can seamlessly turn your dream office designs into a stress-free reality.
Our support continues long after the project handover, and we're on hand to ensure your offices remain as impressive as they were the day we completed your project. Call us on 01245 320900 or use the contact form here.