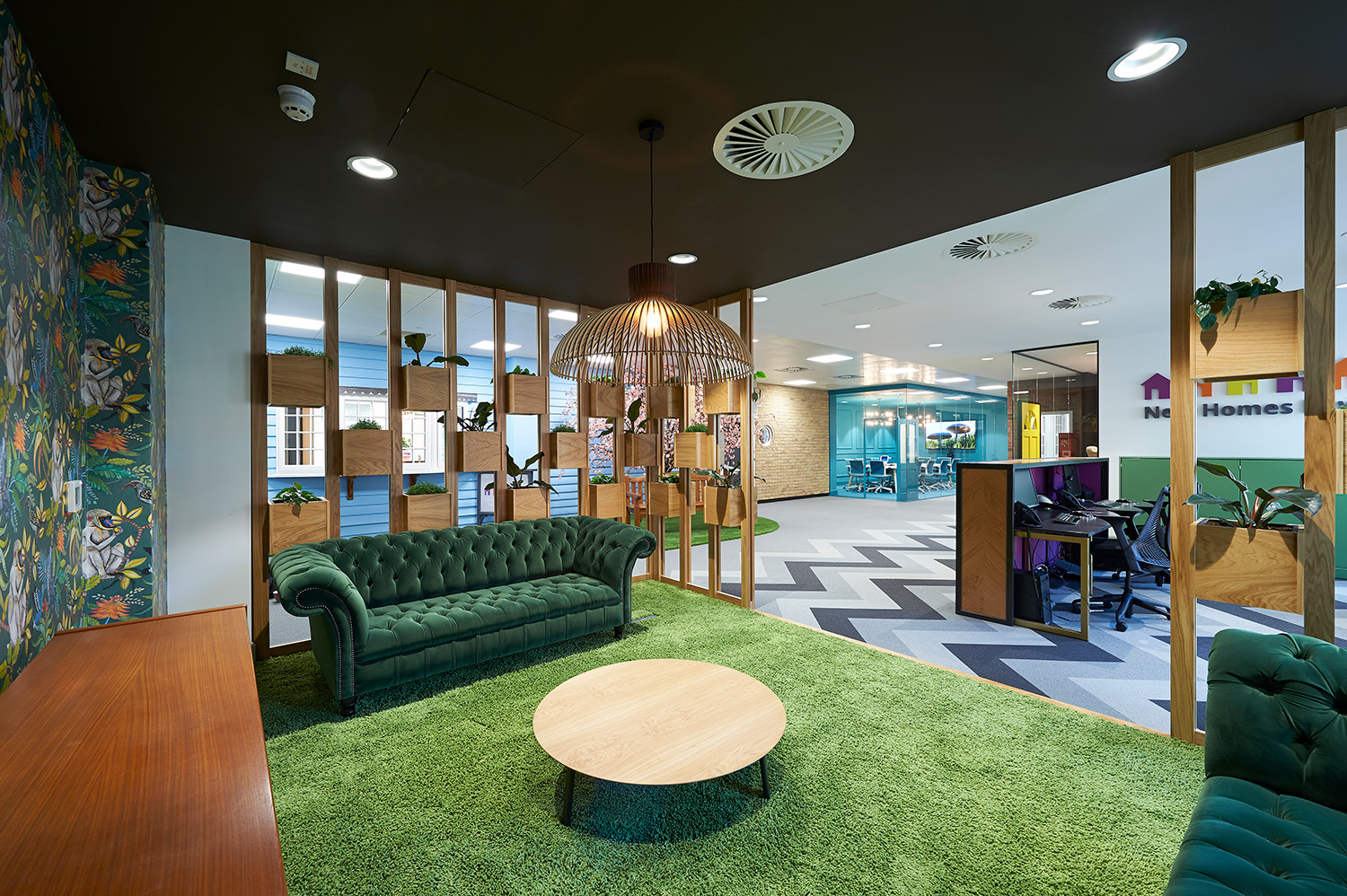 New Homes Law
Location
Chelmsford, Essex
Introduction
A new look for a new workplace
New Homes Law (NHL) is a growing property law firm based in Chelmsford, Essex, that assists clients through the home-buying, re-mortgaging and selling process. After acquiring new offices in Chelmsford, they approached the Spacio team intending to create a space that showcased the company's personality while invigorating their 48-strong team and offering a welcoming and memorable first impression to visiting clients.
PROJECT JOURNEY
The Brief
While New Homes Law's new offices are situated on the first floor, a traditional, domestic shop-front feel was required. It also needed to deliver an agile workspace that could meet the demands of its hard-working team while incorporating a flexible layout that allowed for bespoke breakout meetings to happen without restriction.
In the realm of real estate, what potential clients perceive is everything. As a result, it's paramount to convey the dynamic nature of the company. The staff should be provided with a working environment to reinvigorate their passion for the job simultaneously offering relaxation areas to recharge for the project ahead.
PROJECT JOURNEY
The Space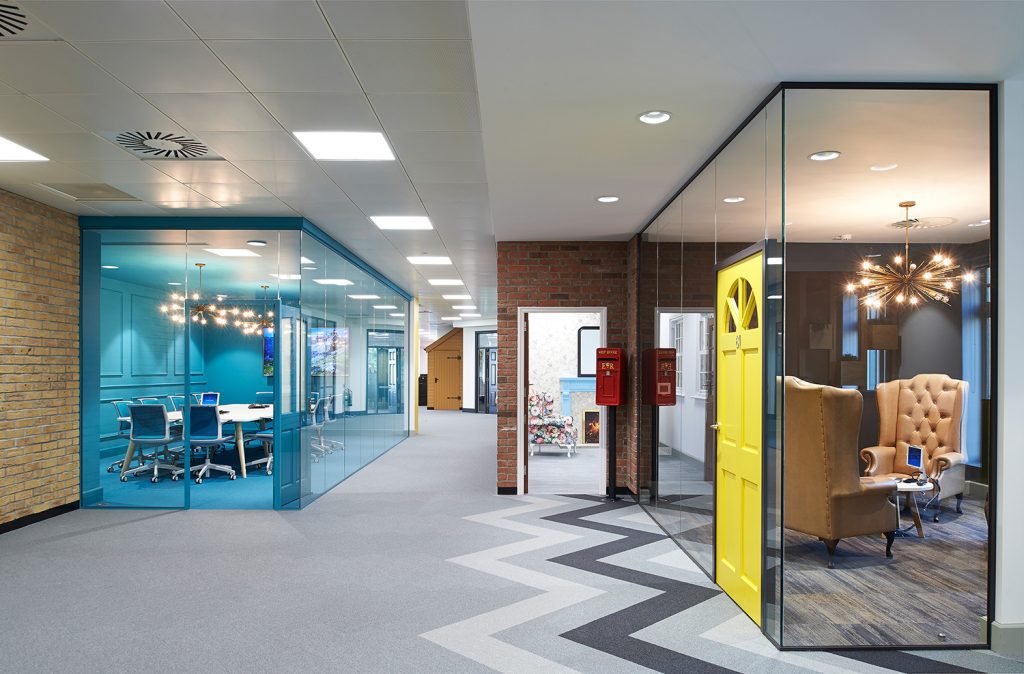 Before Spacio transformed, NHL's new offices were functional but lacked the flexibility required for their team to grow and evolve. Also, the appeal you'd associate with a traditional ground floor storefront was missing – something the client was keen to overcome and present an approachable and welcoming visage.
NHL is a dynamic company that thrives on energy; however, the existing interior design was not reflective of such a firm. As such, we were called on to create something to impress any clients visiting and deliver a space that the NHL team would be proud to call home.
PROJECT JOURNEY
The Build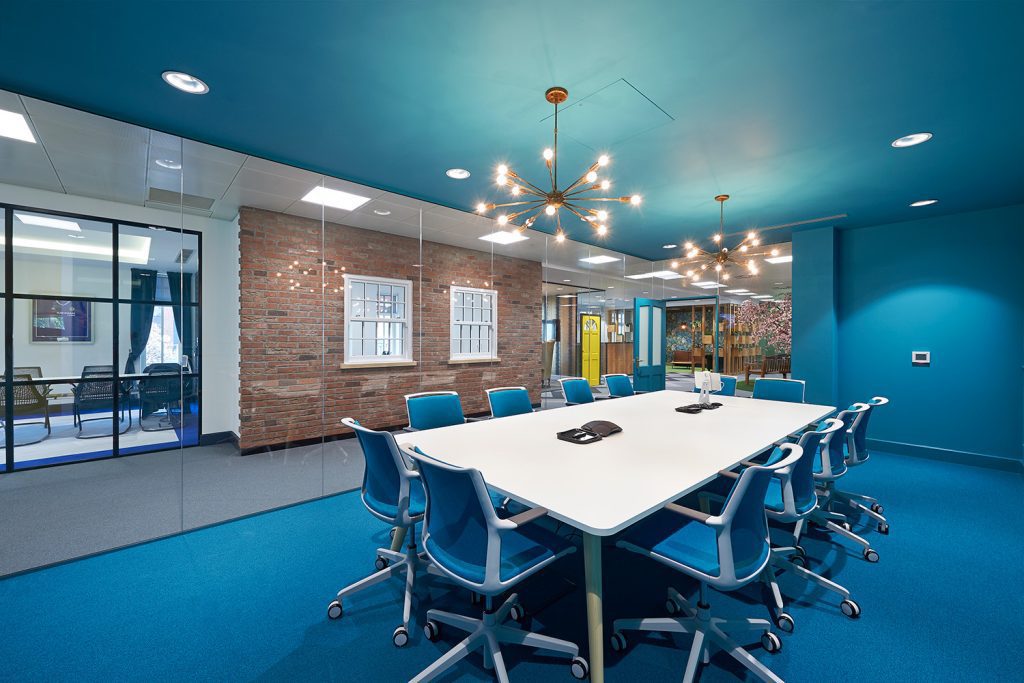 Leaning into the domestic property concept, the Spacio team create a fun, quirky, and vibrant look for NHL's new Chelmsford office. With numerous features that made every office zone look like the entrance to a client's new home, a striking colour scheme and design that blends modern business with a homely charm were created.
Visiting clients are greeted by a visually striking entrance area, including a faux cherry blossom tree, for an impressive first impression. Every effort was made to create a workspace that top industry talent would love working in, helping to recruit the very best.
This project was executed using a combination of high-impact, custom joinery designs. Notably, the oversized abacus and wooden planters add an extra dash of charm to the reception area. Bay and porthole windows give the space a unique, quirky aesthetic that satisfies on many levels. Additionally, the floor-to-ceiling windows that encompass the large meeting room are adorned in a striking blue hue.
PROJECT JOURNEY
The Impact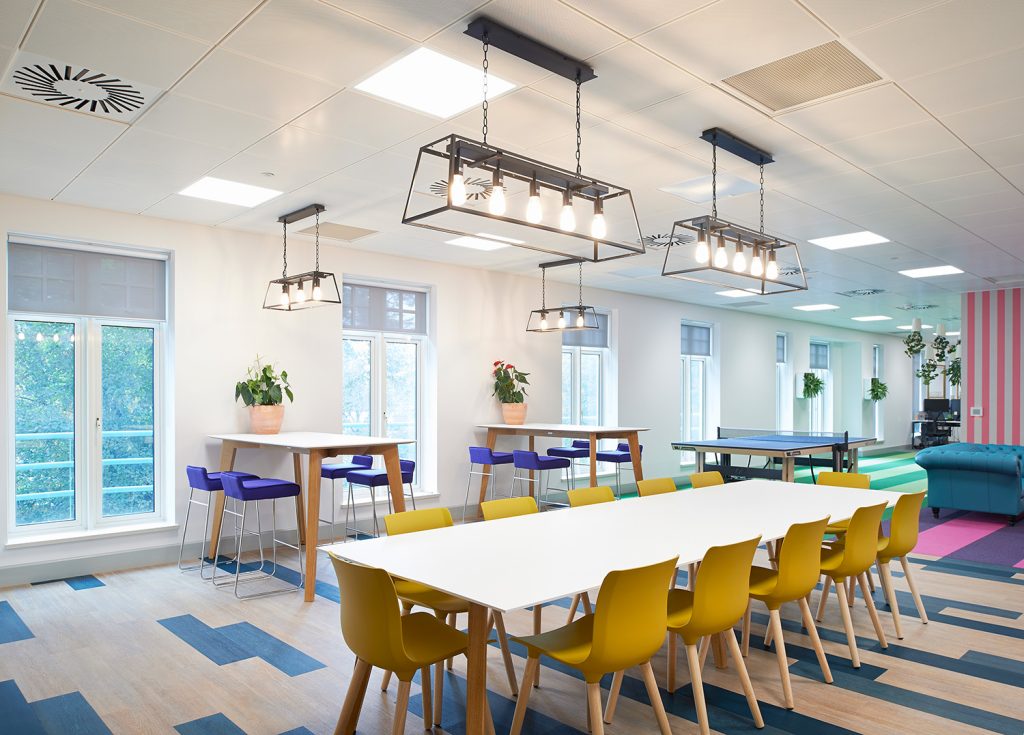 New Homes Law is thrilled with the results of our new office design. By creating an attractive and engaging customer-facing space, while also enhancing the workspace experience for our valued employees, we've taken their brand to the next level. This highly professional and welcoming design is one of our most interesting to date, and communicates our commitment to excellence perfectly.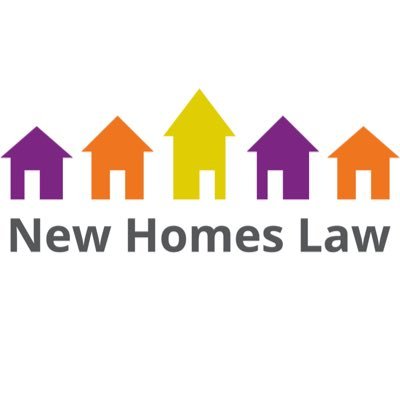 We have a new vibrant environment delivering an unmeasurable increase in morale!
The space that Spacio has supplied has made our working environment more vibrant and has increased the morale of our staff to an unmemorable scale. The process was made simple and all ideas were listened to and implemented without fuss, resulting in an epic working environment. "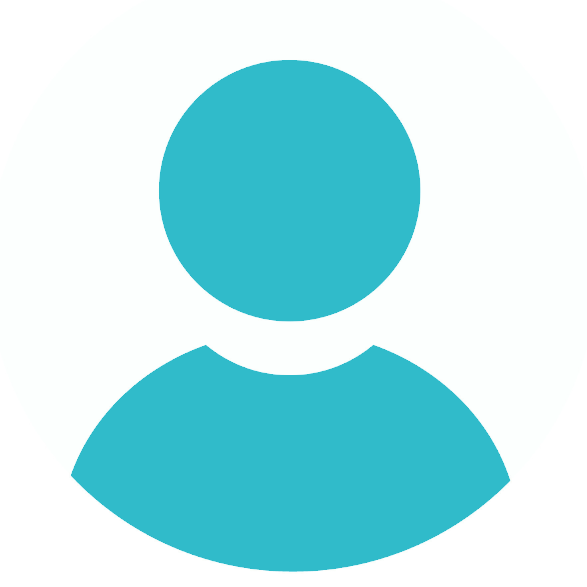 Discuss a project with us
Creating a plan to achieve your objectives.
Whether you are refurbishing or moving, Spacio offer a range of workplace design and build services from space planning, office fit out, office refurbishment and relocation, project management and workplace consultancy,
Let's create the space to do your best work.