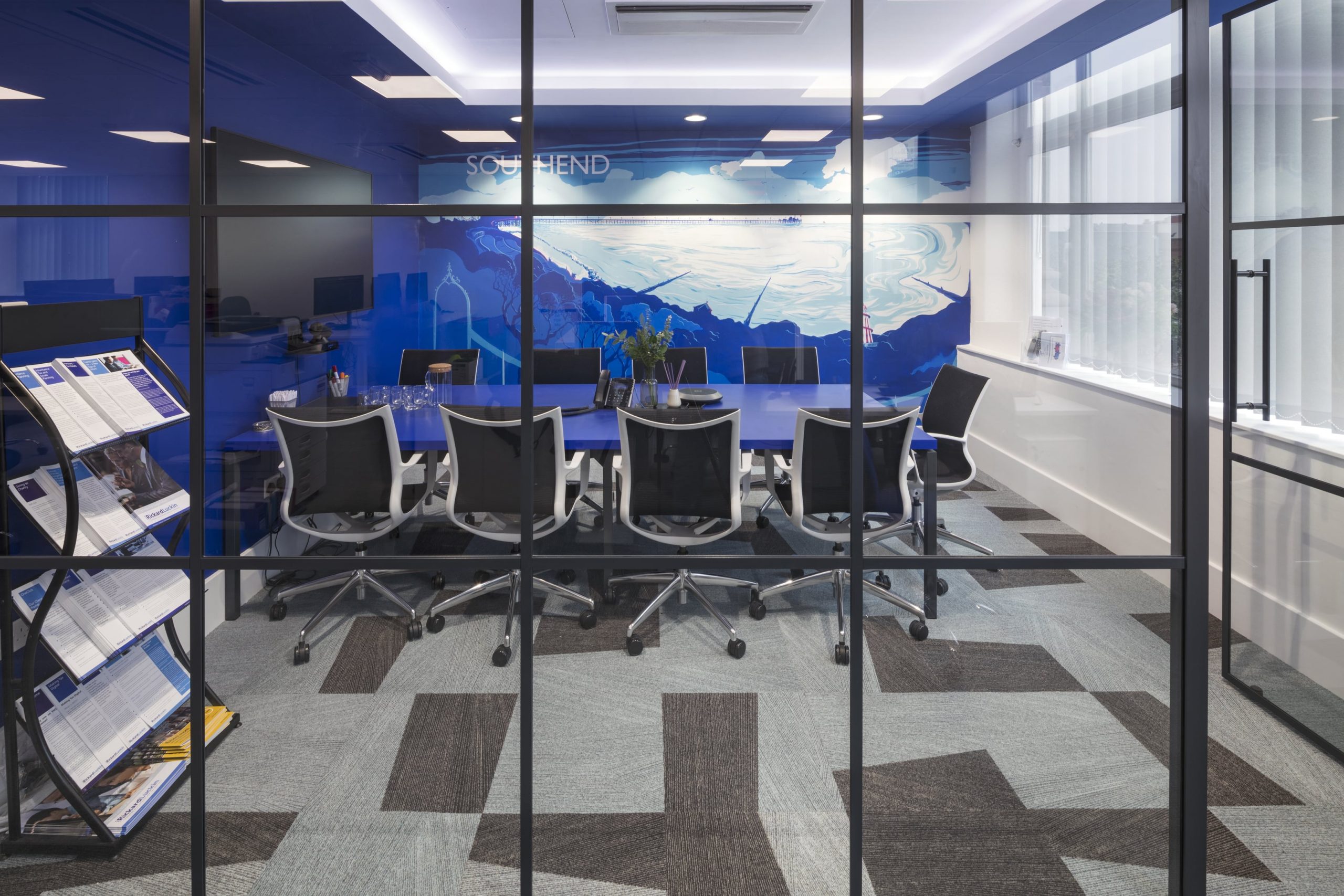 Finance
Rickard Luckin
Entering the Rickard Luckin Southend office space, visitors and staff are greeted by a simple palette of textures and colours. Creating the front entrance wall are two cleverly designed quiet rooms, with bi-fold doors painted in brand blue. Inside the booths the back wall is finished in acoustic felt fabric, with a plinth to work on and a simple stool to perch. Greenery is also present throughout this space.
Contact us
Flooring is a mixture of carpet and luxury vinyl tile. Flowing from the entrance LVT joins through to the breakout kitchen space. Carpet sits within the main office space, the design has angled subtle stripes, that when it is put together it creates a geometric random pattern.
To add in some Rickard Luckin personality to the design, the full height storage wall systems take on a graphic application.
The importance of collaboration is reflected throughout the design of the two meeting spaces. Each space has its own personality, with strong crittal glazing framing the rooms. The snug room has soft textures and inviting furniture to sit and relax within. The flooring is a continuation from the breakout/kitchen area, with a plush deep pile rug on top to give it that homely feeling. Both ceilings are solid MF finish with brand blue finish with flush down-lights to illuminate the space.
Within the boardroom the ceiling has a recessed coiffure and halo LED lighting surround. Within the boardroom the blue finish wraps around, even flowing onto the tabletop. A strong graphic covers the back wall, with a play on the RL logo and brand colours making a bold statement.
"We are really pleased with the outcome of the new office refurbishment. The initial feedback from the team is that they are really looking forward to working in what will now be a more modern, social and flexible space. The result has really exceeded our expectations, and the new office will enable us to work more collaboratively across our teams to deliver a greater service to clients. And it goes without saying that we cannot wait to meet clients and contacts in the offices in the near future".
Jamie Nice, Head of Tax & Financial Planning, Rickard Luckin