Recruitment
Hyper Recruitment Solutions
Through the success of HRS the team had out grown their old office and needed a new space to continue to progress and evolve in. A combination of multi use spaces were vital to be included in the new space, allowing all of the HRS team to make best use of the office. Creating a space away from day to day working was another key element to be designed in, whilst keeping in mind acoustics and aesthetics. Special attention needed to be given to the layout to allow for future expansion of the team, therefore flexibility needed to come into play early into the design.
Contact us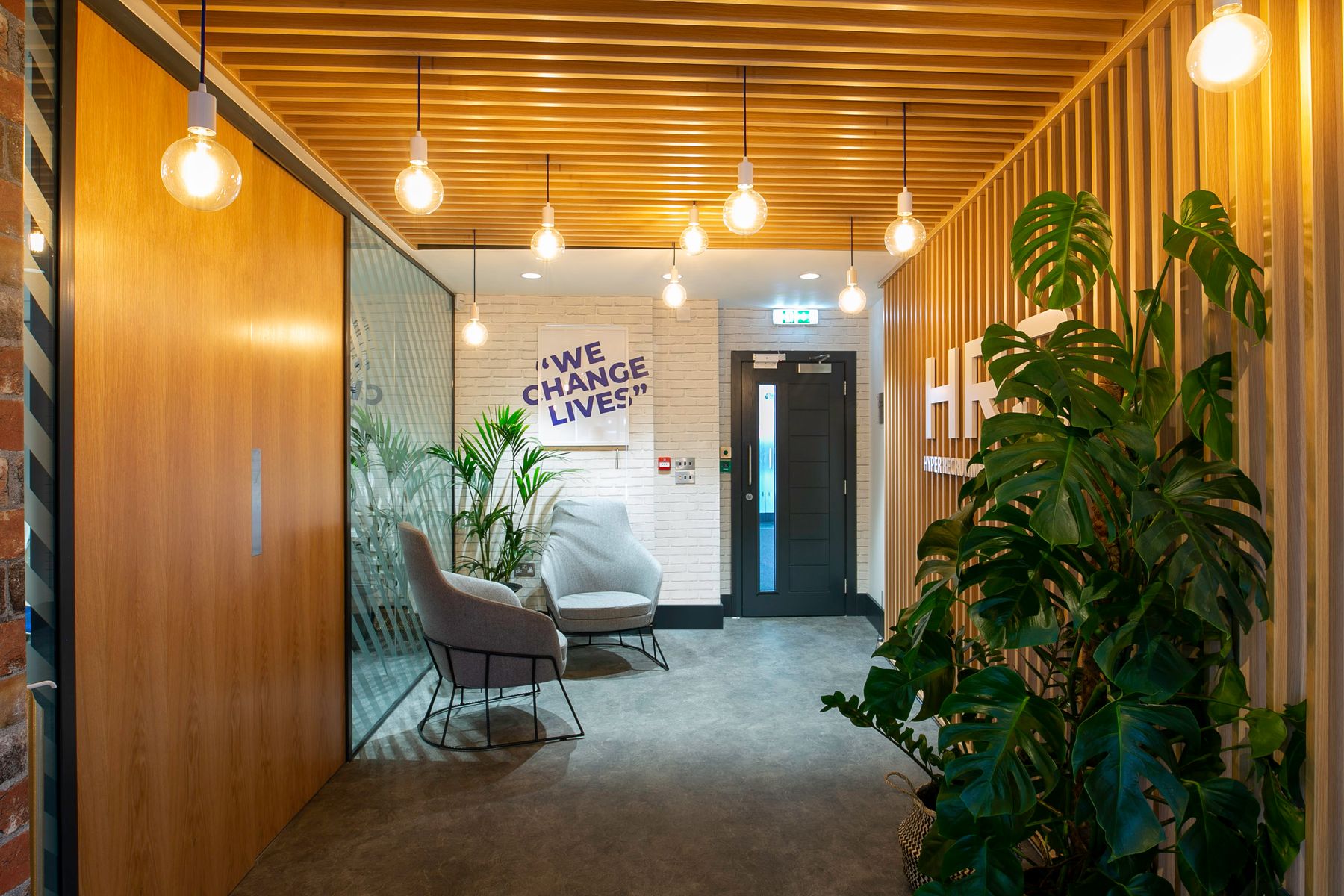 Solution
Collaboration was the key to creating the final design for the Hyper Recruitment Solutions office. Through colour choices, bold graphics and small details, no area was left untouched.
Within the main office space, the texture and colour palette was kept to a minimum, allowing the staff to have a calmer setting to work in. Desks were planned in to work with the teams structures, but also to preempt future growth, therefore extra points were added into the electrical layout ensuring more staff can be fitted in. Between teams bespoke glass whiteboards sit atop low level storage, allowing both sides to use the collaborative space.
Throughout the design there are small nods to the personality of HRS and Ricky Martin, wether its inspiration quotes hidden around, basket ball hoops, clocks all set at different times and bespoke artwork by Pure Evil. This is an office that stands out and is the 'reflection of perfection'
The space that Spacio has supplied has made our working environment more vibrant and has increased the morale of our staff to an unmeasurable scale. The process was made simple and all ideas were listened to and implemented without fuss, resulting in an epic working environment.
Grant Noble (CEO), New Homes Law
The finished projects are a great success, were brought in on time, on budget and look fabulous. The design team took our brief and delivered it with flair and style. In summary, amazing attention to detail, design, a commitment to doing things the right way and excellent communication skills are trademarks of the Spacio team.
Glen Witham, Port of London
All of the staff here at the office and everyone that visits us are absolutely blown away! We achieved not only something that reflects our brand but also remembers why the building is here. We couldn't be happier in our new home! Thank you so much!
Laura Smith, Benefit Cosmetics UK & Ireland
We have settled into our new studio really well. All of us appreciate the additional space we now have, not to mention the view! Having a separate meeting and quiet room has positively impacted on our day-to-day working. I'd certainly recommend Spacio to those looking to refurbish their office.
Michael Scantlebury, Director, Impero
It is important for us to attract and retain really talented people and we needed to create a great environment for those individuals to work within. With the help of Spacio, we really have achieved that goal and we couldn't be happier with how our offices have turned out.
Matt David, Derivco
I can honestly say they nailed it first time with the design! There are always obstacles to overcome but Spacio were always professional in their communications with us and above all honest. The finished article is to a very high standard and, most importantly, completed on time and to budget.
Chris Godbold, Facilities Manager, QA Training
I was extremely pleased you were able to deliver everything on time, on spec and, most importantly, within the budget we agreed from the offset. The workmanship, professionalism and 'can do' attitude from all of Spacio's team was exceptional.
Rob Cowdrey, The CF Group
From the beginning, myself and the entire team here found Spacio to be both empathetic in their designs and responsive to any tweaks and changes that we wanted. We're incredibly pleased with the end product, and have a new found sense of pride in our workplace.
Tim Piper, Facilities Assistant, Samsung