CG Analysts
Industry Sector
Financial
Introduction
Designing a modern, dynamic and functional space
CG Analysts delivers specialised actuarial, medical, and due diligence services to the longevity market. With their lease on a Grade 2 listed building coming to an end, they desired a new workspace to impress visitors and invigorate employees. That was when Spacio came in, bringing their expertise to provide the stunning office space that CG Analysts were seeking.
PROJECT JOURNEY
The Brief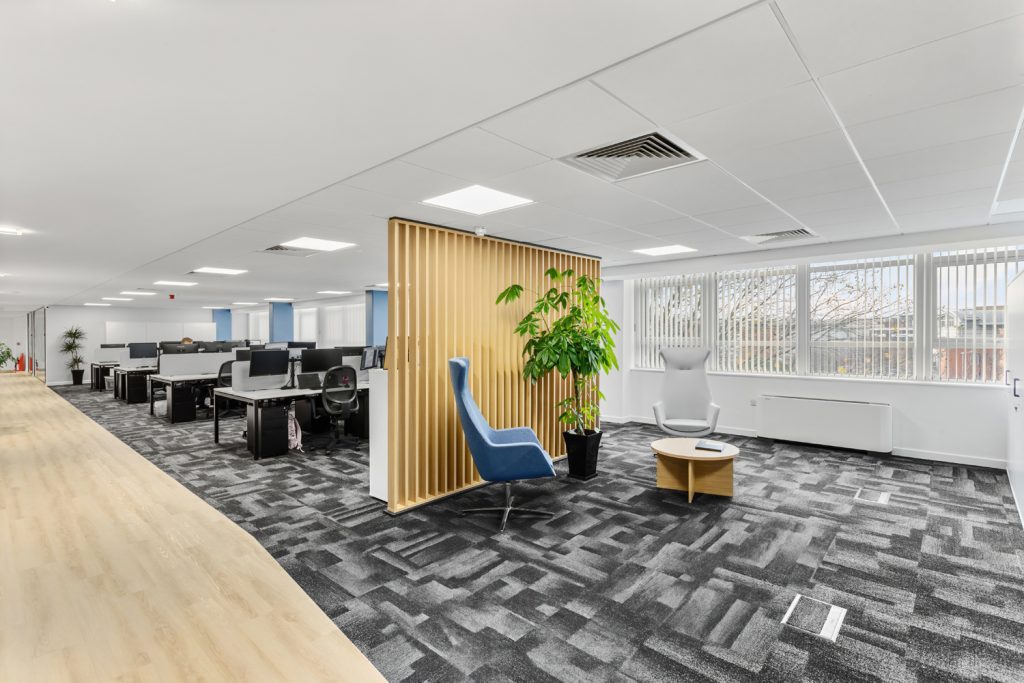 Before the expiry of their old lease, the Spacio team were approached by CG Analysts to refurbish their new Ipswich offices, which were much larger than their old location. The goal was to create a modern, spacious, dynamic workspace that unmistakably bore the company's identity. Unlike their previous headquarters over two stories, the new offices were located on a single floor.
Great emphasis was given to creating an atmosphere that employees and visitors would relish in the new location. The main concern at the time was privacy, which had not been adequately addressed in their previous open-plan office. As a result, soundproofing was a significant aspect that needed integration into the new design, providing employees with a conducive work environment.
The previous office needed more decent kitchen facilities; the layout had no seating, rendering it unsuitable for socialising or hosting guests. The need for a new kitchen area was evident as it would provide employees with a space to unwind and recharge, thereby enabling them to excel in their respective roles. The Spacio team wasted no time in delivering the required enhancements.
PROJECT JOURNEY
The Space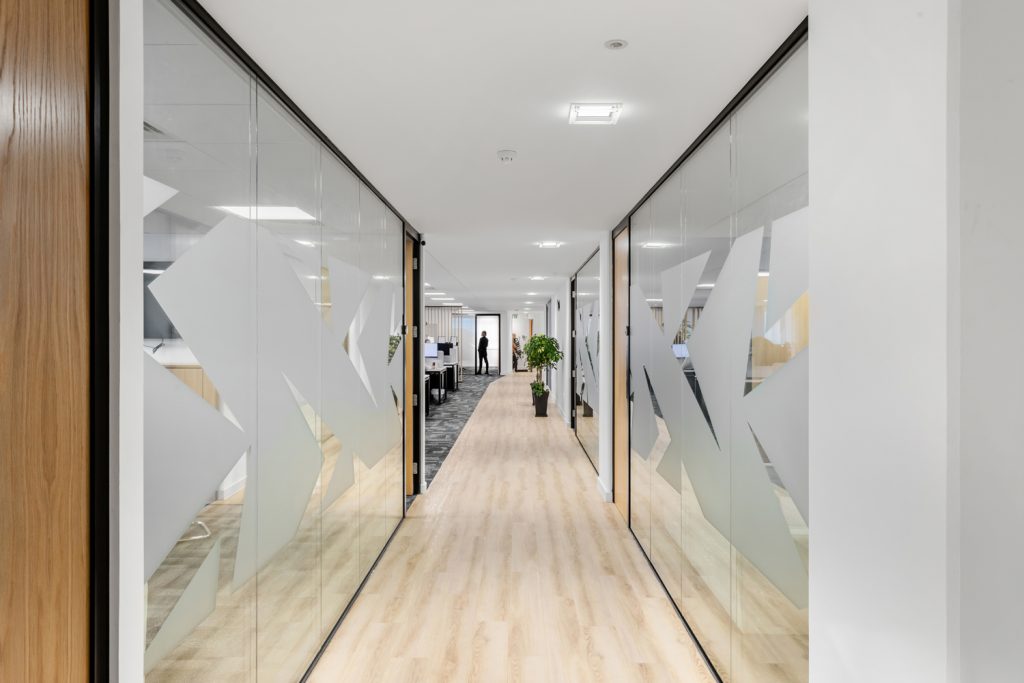 Due to the change of location to larger premises, the task required our team to create an expansive new layout that supported team collaboration while delivering a modern aesthetic befitting the company. While the old grade 2 listed building was beautiful in terms of architecture, it wasn't set up to allow staff to reach their full potential.
The new premises provided a blank canvas, giving the Spacio team ample creative freedom to deliver the much-needed WOW factor. Additionally, it was essential to ensure that management remained close to their teams without compromising anyone's privacy. Another priority was the creation of a social area in the kitchen, which fosters team bonding through various activities.
PROJECT JOURNEY
The Build
The Spacio team used CG Analysts' deep blue brand colour as the central focus when designing their office. Arriving visitors are greeted by large blue walls adorned with bold white 3D company signage. The walls and a durable, dark carpet complemented by geometric patterns create a truly impactful first impression.
The main office area was transformed into a collaborative workspace with low-energy lighting systems installed. The challenge of soundproofing was smartly resolved through soundproofing around partitioned workspaces and baffles in the ceilings of managers' offices. This allowed management to be situated right next to the main working area without anyone being disturbed as they worked. Close by, a vibrant new kitchen area was added with ample seating and pool & table tennis tables – something the company now uses for team bonding pool league nights with beer! Every requirement was met with room to spare.
PROJECT JOURNEY
The Impact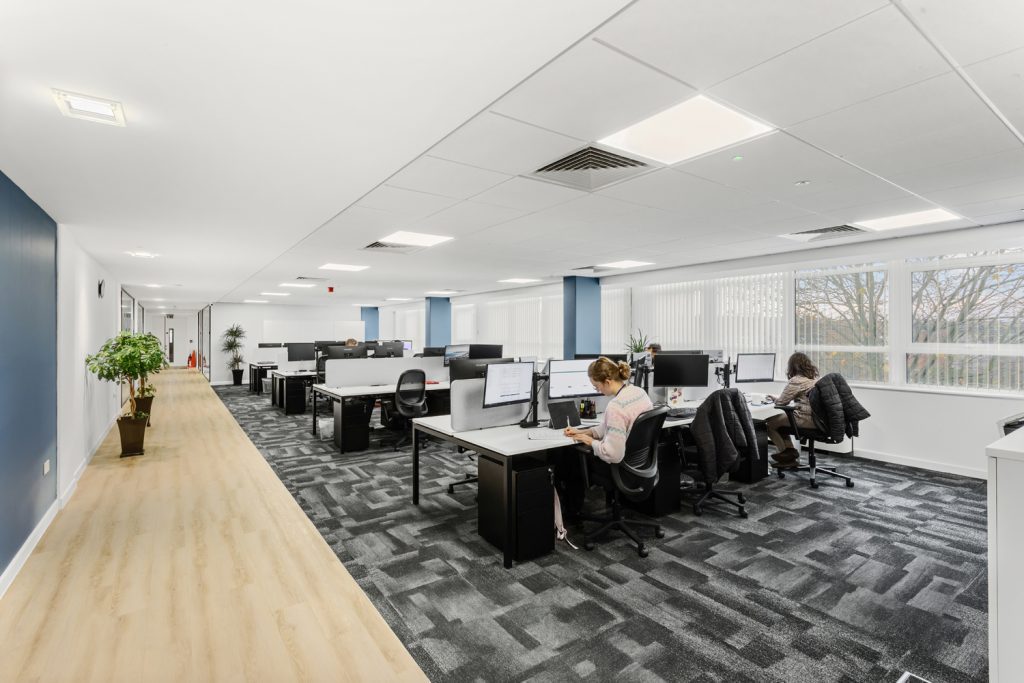 The CG Analysts were thrilled with their new office space, which aptly fulfilled all of their design and function requirements. The company can now take pride in its exceptional workplace, and those fortunate enough to work there feel privileged to be in such an inspiring environment. The space was designed to impress, and the team now enjoys a bespoke platform to support future growth.
The design ideas were next-level and far better than we'd envisaged!
"An amazing amount of work was done in a short space of time – and it needed to be, as your deadline was tight. Spacio did a really good job, and we'd be glad to recommend them to anyone."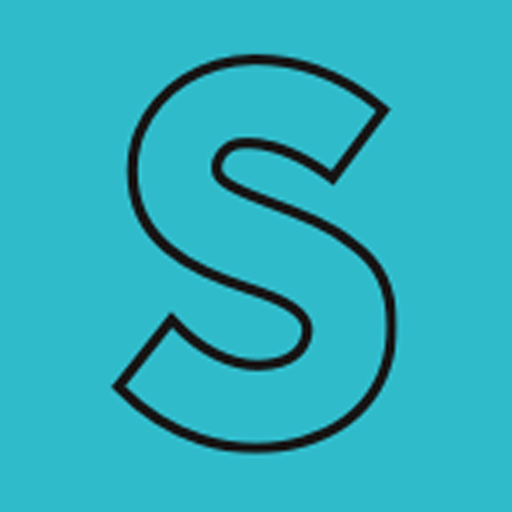 Discuss a project with us
Creating a plan to achieve your objectives.
Whether you are refurbishing or moving, Spacio offer a range of workplace design and build services from space planning, office fit out, office refurbishment and relocation, project management and workplace consultancy,
Let's create the space to do your best work.