News
Spacio talks to: Head of Design, Zowie Wyatt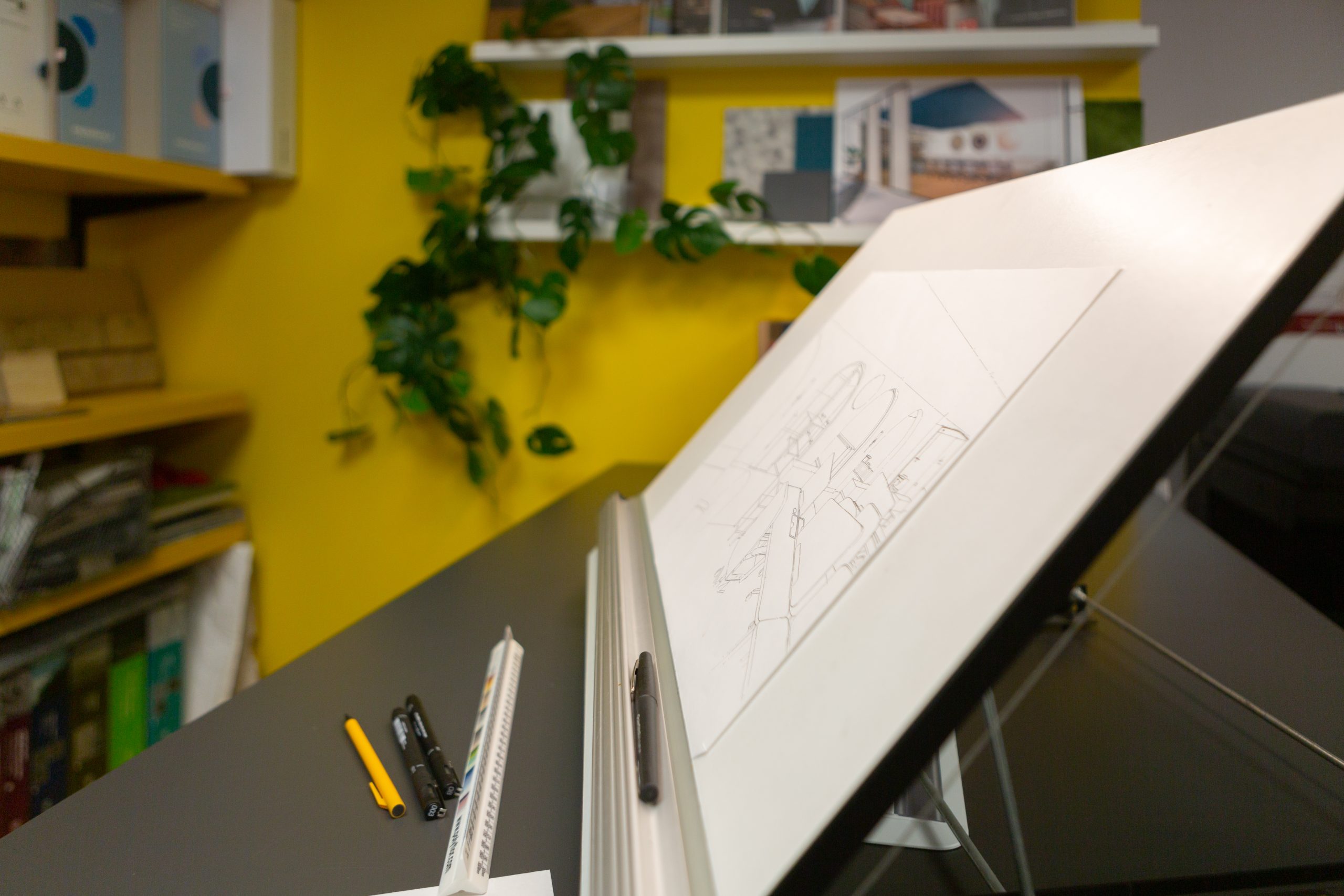 We talk to Zowie Wyatt, Head of Design here at Spacio! From personal style, to the ideal office space and exciting details about our upcoming projects, it's all in our interview below!
How did you first get into interior design?
My father had a commercial tiling company, and used to get me to colour in big A1 printed plans to show where different tiles were to be installed. Therefore I learnt from a very young age (probably 5) how to read technical drawings and this started my interest in architecture/interiors. Once I was at the age to decide what I might want to start a career in, I discovered interior architecture and proceeded to pursue a degree in this.
Describe your personal style in 3 words?
Bespoke, amalgamation and considered
What does a typical day at Spacio look like for you?
First things first I like to check my list of jobs from yesterday, reminding myself of any deadlines we are working towards or items that we need feedback on. I then work with my designers to ensure we all have a plan for the day. A normal day can see me switching between 2 – 8 jobs a day, therefore keeping a list is always handy to not lose your marbles.
I could be drawing up a new layout plan, or visualising a space we are in the process of designing. One thing that never changes is the state of my desk and how many samples and drawings I have scattered around. Organised chaos.
What exciting projects are you working on at the moment?
A whole host of clients have allowed us the opportunity to work on their offices or communal spaces for them, most notable are Cambrionix. The team at Cambrionix gave us an exciting brief that opened up some really alternative ideas and textures to use within the space. We are all gearing up now to build the project and see our visions come to life. The best part!
What interests you most in office design?
Meeting all of the different companies, it's always that moment of learning what businesses do that excites me. My mind straight away is thinking about how we can tailor a design especially for their staff, their values and their future of the business. I want to work as a collaboration with their teams, as they will be working and thriving in these designs, it has to be a joined approach.
How do you get inspiration for your designs?
Anywhere and everywhere, some days inspiration can come from a word within the brand guidelines, or it comes from browsing other interior projects. I never just stick to office design either, taking inspiration from retail or hospitality can break the designs away from being carbon copies of one another.
What does your ideal office space look like?
Surprisingly not like an office. Ideally it would be an interior that is finished in calm colours, with all furniture free standing to have the freedom to switch it up once in a while. I'm a big believer in change for the better, keep things fresh and adaptable to not fall into creative ruts. I'd also love a stretching room – because working at a desk is awful for our poor backs. (I've just come up with this on the spot – now to put it in somewhere!)
How have you changed as a designer over the years? And how do you keep up with the trends?
Confidence and awareness. I used to come up with ideas that I was scared to present because they could be seen as being too radical, whereas now I have the confidence to explain why the radical change is beneficial instead of just being aesthetical, sometimes the client is bored of hearing the same safe responses and wants to really take the idea to the next level.
I keep up with the latest trends by following online blogs and past colleagues or friends work. Trends are always changing but that doesn't mean that they are being used in designs, its more about what's available, sustainable and wanted by our clients.
What is your favourite thing about working for Spacio?
Our team. Everyone has been hand selected to each offer a different link to the success of Spacio. With years of experience and industry knowledge we have the expertise to ensure we know what we are talking about. Yet we are all open to learning, whether that's about new trends, office wellness or what each others favourite snack is. They make me laugh and smile daily.
What is the most rewarding part of the job?
Seeing your project complete and the client smiling. It's a team effort and it's a moment to see where all the hard work goes, feeling the textures that we have mixed together and seeing the lighting that has been carefully planned into the design.
What trends to do you predict for interiors in 2020?
You can read my 2020 office design trends in our latest post here!
What makes Spacio so unique?
Spacio pride themselves on offering a whole range of services, paired with the team, means we can approach each project with the right response.
Can you give us a clue for what's in store for Spacio in 2020?
Bigger projects, brighter ideas and further learning.
Discover our latest projects here