News
Spacio talks: Office Design Trends 2020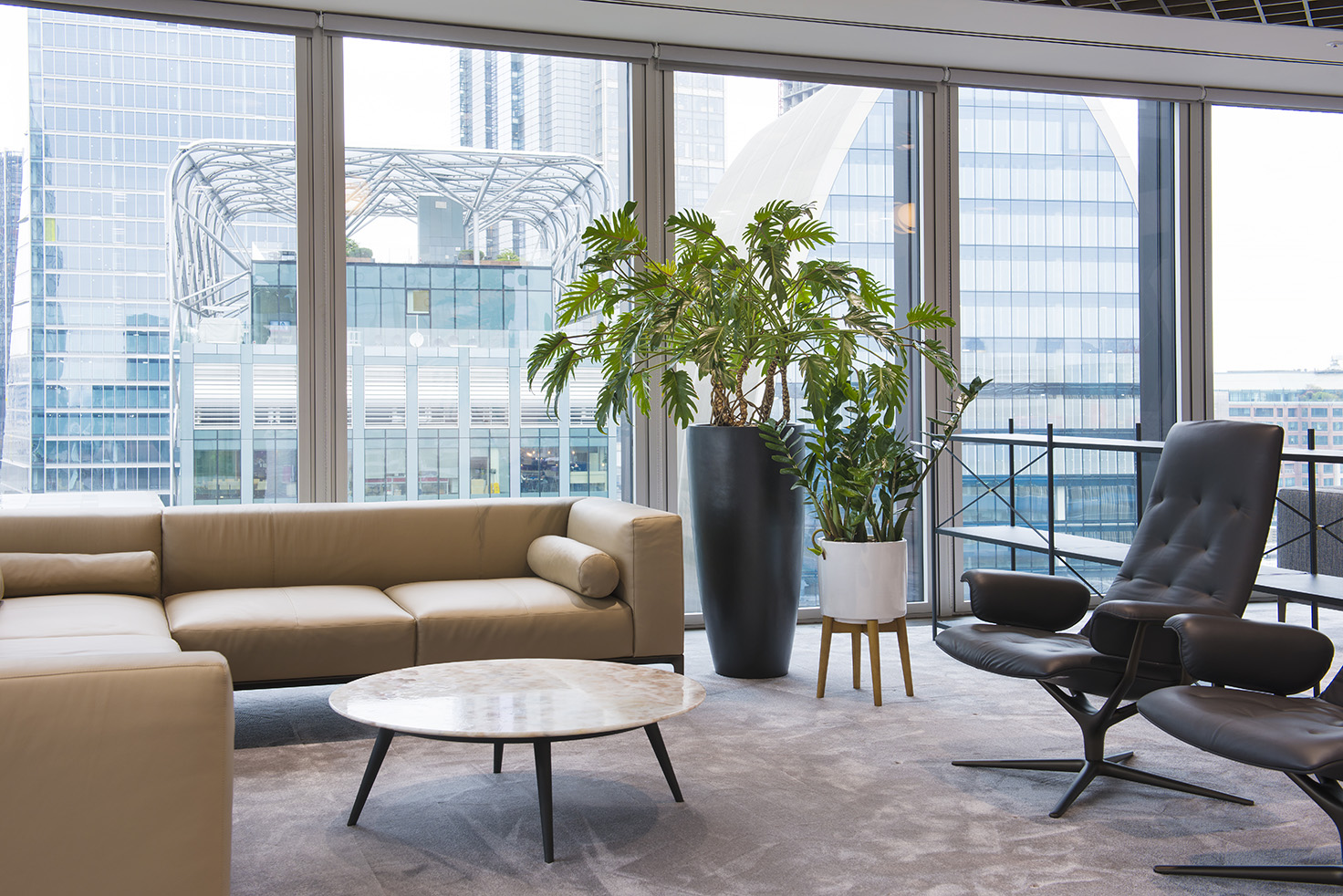 Want to get the lowdown on the 2020 office design trends? We've got you covered! From perfect planters, to amazing acoustics and workplace wellbeing, our experts predict the top trends for your office in 2020 below..
Muted colours
Goodbye bright colours, hello muted tones! Head of Design at Spacio, Zowie Wyatt talks about the colours we're going to see more and more of in 2020.
A trend I predict is muted colours – starting to follow more of a natural hue throughout workspaces. The days of the bright google offices are starting to wane. Workplaces are a careful balance of productive workspace and areas to break away from the stresses of the day, therefore more muted colours mixed with natural surfaces can allow for softer transitions between these spaces. This is also falling in line with the fashion trends, where bright and large patterned fabrics are being replaced with soft silks and muted tones.
Plants take the stage!
Here at Spacio, we have a serious love for plants, and we don't see this trend going away anytime soon! From new innovations to the plant that's going to be in everyone's office in 2020, we catch up with The Planteria Group.
Quantity! Planting is gaining recognition as an important part of office design and fit-out. No office should be without them. The Well Building Standard and BREEAM have both raised the profile of the inclusion of biophilic design in the built environment, in particular in office space. Companies are quite rightly keen to provide their staff with the best possible office environment to work in, for the health and wellbeing of their workforce, and also as an outward symbol of their own green credentials and values. For these reasons and the fact that plants look beautiful, the trend will be to have more plants in more locations. Along with this you will see designers becoming more creative with planting. Expect to see more 'Hanging Gardens of Babylon' style spaces with plants suspended from the ceilings as well as plentiful tropical planting adorning locker and cabinet tops.
Living Walls
Living walls and moss walls both look set to be popular in the coming year. Moss walls are a perfect alternative to living walls for indoor spaces, especially behind reception desks and in meeting rooms. They give the floor to ceiling impact of a living wall and they are truly stunning, but they have very little requirement for maintenance or ongoing care as they are made from preserved moss, this makes them ideal for carpeted areas, or for rooms where the lights might not always be on (living walls require light, or growing lamps, to ensure the plants thrive).
Planters
Planters are a great accessory for tying a design together to give the finishing touches, just like soft furnishings do. We supply pots in any Pantone colour, so we can match corporate branding and you can go for bold, bright or clashing in a way that you might not want to do with a wall colour or a carpet! That said 2019 was all about copper coloured planters and accents a trend set to continue because it is divine. A big trend tipped to 'run' through 2020, if you excuse the pun, is planters on legs which can either look contemporary with rose gold or brass frames or can look retro and 70's in ceramic with wooden legs. These planters elevate to plant to a new status, turning it in to a statement piece.
The plant that's going to be in everyone's office in 2020?
Planting is getting bolder and most people want their plants to take centre stage, so I would say you are going to see larger specimens gaining popularity. Monstera Deliciosa is a great plant, that can grow to around eight feet tall with dark glossy green leaves. I also love a Ficus Lyrata, which is tall and imposing with large oval leaves and a very uniform shape and size, they look ultra-modern especially if you plant them in a large white container. I have one in my kitchen at home, he's called Lionel.
On a smaller scale succulents have been very popular for a few years, and they are fun quirky and easy to look after, but my new favourite is a Chinese Money Plant (Pilea Perermioides) which has long stems with circular leaves at the end, they are very cute and bang up to date.
New innovations in 2020?
Yes absolutely, you'll see hanging troughs and new way with wall planters like the wonder wall!
Lighting is adapting!
Lighting plays a huge role in the working environment, from wellbeing, to sleep cycles and alertness! Take a look at what Trilux predict for 2020.
The biggest trend in the work environment is to adapt the conditions to the needs of the user however diverse they are – lighting can contribute to this on many levels.
Firstly there is the biological impact, we need different levels of light to perform the varied tasks that are now required of us, our age and other physical limitations will demand more, plus there is the newer understanding of how light affects our 24 hour cycles of sleep, alertness and general wellbeing.
Light can also have a very moving psychological effect, the quality of light; shade and accent variations; how we balance light within a space to bring interest and focus to a particular element – all of these mean we can create an environment that works with our deep human instincts.
From a technical side, all of this is possible. The demand and understanding will evolve as we focus more on the people who are at the centre of the workplace.
Make your employees smile with acoustic furniture
The open-plan workspace craze is still making waves in the office design world, but workers still want their privacy! We caught up with BuzziSpace, specialists in acoustic furniture…
Nowadays, we spend more time at work than at home. Looking at the way we work today, we're exposed to artificial light, artificial sounds like ringtones or air-conditioning, and artificial air that are difficult to detect and process by our brain.
In open floor spaces, complaints about noise, bad acoustics and lack of privacy are some of the most recurrent issues. It's no wonder that sound affects our moods, well-being and even productivity, for better or for worse, and this is where acoustics and the other natural elements like light, air and material play an important role in the workspace.
We, as innovators, launch solutions every year that meet the needs of today's new ways of working. We introduced the concept of home-ification some years ago, providing this cosiness feeling at work and we strive to respond to the trend of more flexibility that working nomads are expecting (from a top-notch lounge to break out zones) perusing the approach of opting for wood and soft elements, such as tactile fabrics, that refer to nature.
Nowadays and in consistency with our biophilic proposition, it's key to create different microenvironments and cater for their different needs, whether employees like to work on a presentation or catch up with clients, or they just want to relax and enjoy a drink. Our solutions for happy and healthy workspaces are designed with this versatility in mind. It's a tired and true acoustic portfolio, from sound absorbing poufs easy to arrange to soft lounge sofas for scaping from crowded and noisy surroundings.
Putting the spotlight on wellbeing and sustainability
Our in-house designer at Spacio, Eloise talks wellbeing, lighting and technology!
I believe the office design trends of 2020 will lend themselves to the non-toxic movement and focus on maximising wellbeing and sustainability. This will be reflected in colours, materials low in VOCs and concepts that take inspiration from the natural world such as biophilia, natural tones and seasonal and celestial influences. Employee wellness and productivity optimisation is intrinsically linked to balance within the physical office environment which is encapsulated by Indoor Air Quality, Thermal Comfort, Noise, Layout, Biophilia, as well as Daylight and Lighting which will be important design considerations in 2020 and onwards. Light impacts the way we experience a space and our mental wellbeing due to the stimulation of the hormones Serotonin and Melatonin in our brains, responsible for our energy levels in the morning and the evening (circadian rhythm) , as a result I predict lighting features including themed pendant lights and energy efficient bulbs will be key design assets in 2020. Finally I predict Technology will continue to revolutionise the working environment and improve collaborative work spaces, connectivity, aesthetic and the flexibility of offices.
"We shape our buildings, and afterwards our buildings shape us" – Winston Churchill
*Source – World Green Building Council
Co-working spaces will embrace eco-friendly energy
We talk to Mantle to get their predictions on co-working spaces for 2020.
At Mantle, we believe that co-working spaces help to build engagement and productivity. They offer a place where workers from different disciplines can meet, interact, and ultimately collaborate with each other.
Our co-working spaces drive engagement and improve productivity by providing choices in work environments. We have designed a range of spaces suited to the diverse work activities required by our tenants, including relaxed break out areas, private desks, bookable meeting rooms, meeting booths, breakfast bars, and private phone booths. Providing choices in work environments also helps support autonomy, creating a more engaged and empowered worker.
Integral to our spaces are the use of natural light, plants, good air quality and temperature, to help support health and wellbeing.
Increasingly, companies are beginning to recognise the importance of making the world a more sustainable place. It is no secret that climate change is on the rise. We predict that 2020 will see more co-working spaces embrace eco-friendly energy to help reduce their carbon footprint.
We have been liaising with energy experts to look at our portfolio of buildings and how we can make them more energy efficient. Sustainability is becoming increasingly important and the built environment and construction industry contribute around 1/3 of UK CO2 emissions. Mantle is keen to implement energy saving measures across the board, from small day-to-day actions like encouraging recycling, all the way through to installing voltage optimisers; high efficiency boilers and renewable energy sources such as solar panels.
Sustainability will stay on the agenda for years to come and it's important that the property industry play their part in positive change.
Thinking of having an office revamp in the new year? Or maybe you've been inspired by the upcoming trends? Talk to our design experts to help turn your vision into reality.