News
Spacio Talks: Breakout Spaces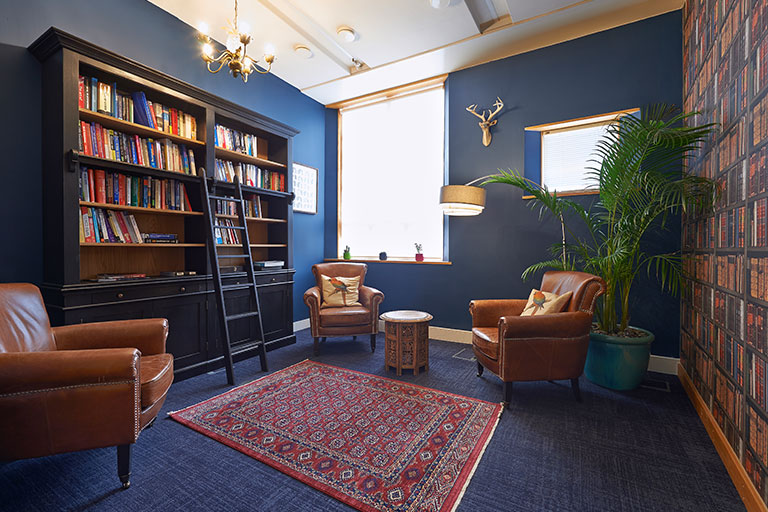 When lunchtime hits, the breakout room is the go-to destination. A breakout room is the ultimate office retreat, the hub of relaxation with inviting features. This space gives employees a chance to reboot and refresh their mindset. Of course, every breakout space should come with copious amounts of fresh coffee, we highly recommend #LiquidLine.
But a breakout space can have more purpose than that – it can be a space for both business and pleasure.
The Importance of Having A Company Breakout Space
A breakout space can provide various functions; it can be a place for employees to relax, recharge, meet clients, have meetings or brainstorm ideas. Having a different environment that your employees can go to can help drive the creative process, and enable an abundance of new and exciting ideas to come to life!
A breakout space can incorporate just about any idea imaginable; from cosy corners to modern kitchens and a golf putting green, below we share our roundup of featured breakout spaces by Spacio.
Project 1: Samsung Breakout Space
For Samsung, we created four different breakout/meeting spaces for individuals across the organisation to promote staff interaction and collaboration. Due to the technical nature of the company, Samsung's employees work varied hours late into the evening, so creating chillout zones that influenced relaxation and tranquillity was our main priority.
First up, let us introduce you to the library room! A quiet room, combining comfort with cosy, featuring rich moody hues and vintage details. We created a space that's ideal for relaxing, pondering over a research book, or anything that the staff require, depending on the task.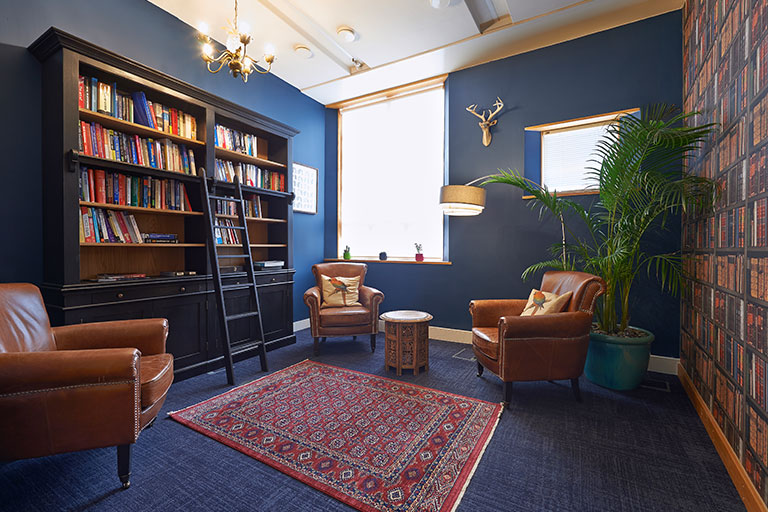 The main breakout space that we created was an industrial, canteen-style kitchen area. Here, informal meetings can take place, where people have the option to work on the high tables if desired. When designing breakout spaces, it's always at the forefront of our mind to ensure it still doubles up as a destination where staff can work and be driven by technology.
Next up – we created a fun games room! This was another awesome space for staff to break loose from the day to day grind.
Project 2: New Homes Law Breakout Space
Channelling the homely feel throughout each area, we based the whole theme of the office makeover for New Homes Law to mimic a street scene, with front doors and brickwork. Little secret fact, the front doors are significant to New Homes Law in terms of being their old address where they started the premises!
With the brief in hand, we designed a large breakout space which morphed into part of the office to allow for future growth. The area included quirky touches, such as table tennis, soft seating with a large modern interpretation of a classic historical kitchen table, which seats up to twelve people. Not only can this table host everyone sitting together, but you could fit two groups of people either side – perfect for huddle meetings. Office party? Not a problem! This table is great for laying out food and buffets. We created the perfect multi-purpose space for everyone to enjoy for business and pleasure.
We incorporated high tables into the same zone, giving a 'Costa Coffee' type of environment, whilst still evoking a homely feel, giving staff the opportunity to work here if needed.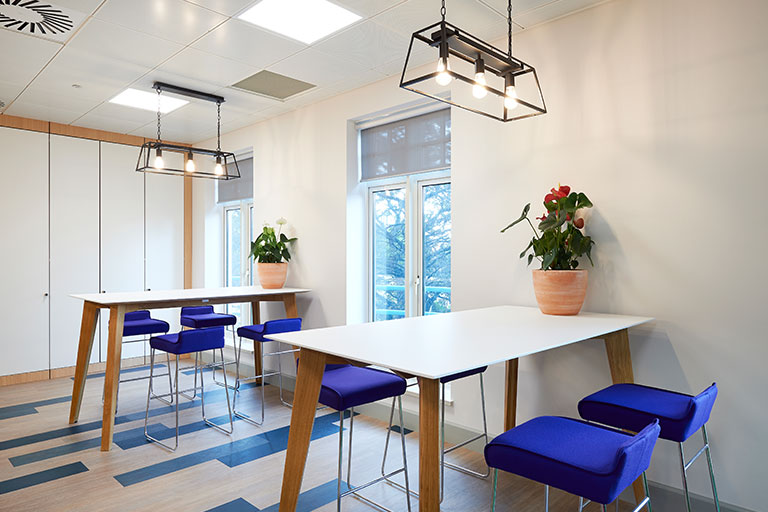 More and more people are investing into this style of kitchen. Historically, individuals would review the kitchen as a cheapened area, focusing on basic units, but now, if you invest in the look and feel of a kitchen, there's a higher chance employees will look after it.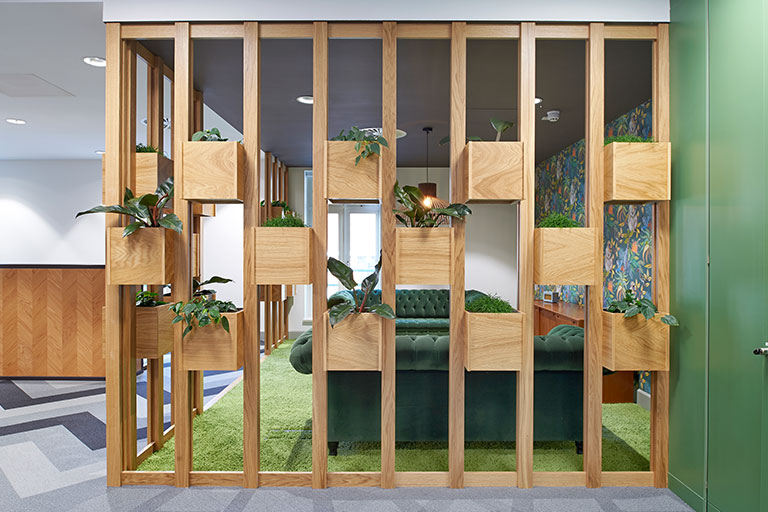 The reception area we designed was for visitors mainly, although a lot of the staff find themselves using it because it's a nice comfy area with a relaxed environment to work in. With the dark green velvet velour Chesterfield sofas and Cole and Son wallpaper – who could blame them for wanting to spend so much time there! Antique touches were used to dress the area, and rather than focusing on a sterile reception area, this space was transformed into a comfy and welcoming lounge area.
Project 3: ALPI Breakout Space
For ALPI, we focused on creating two breakout spaces. We designed a snug nook area, which includes soft furnishings and stylish details. The artwork we added to the walls are a nod to ALPI's heritage.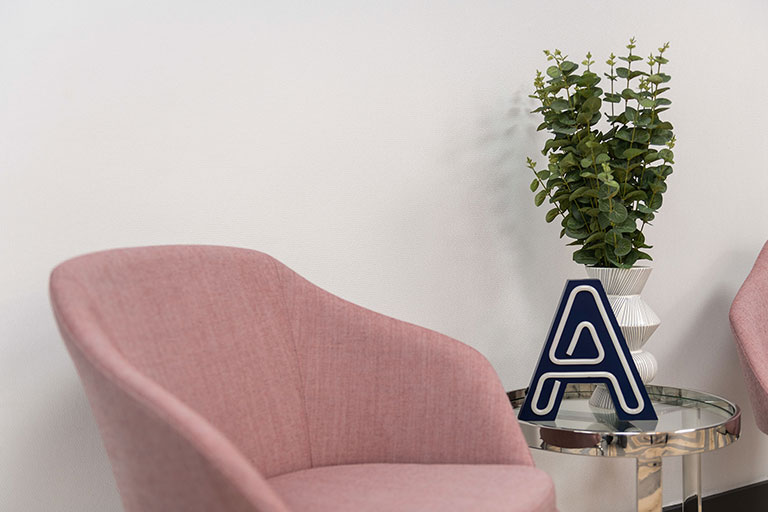 Secondly, we designed a kitchen that acts as the heart of the home. Here you'll find staff chilling out on either the high table or the soft blush pink chairs; the variety of seating provides amply opportunity for the team to relax, work or plan meetings. The kitchen design is sleek, with a high-level spec, including feature lighting over the table. The room was designed with multi-purpose in mind, as employees have the benefit of working from their laptop here, or use it as a place to enjoy lunch.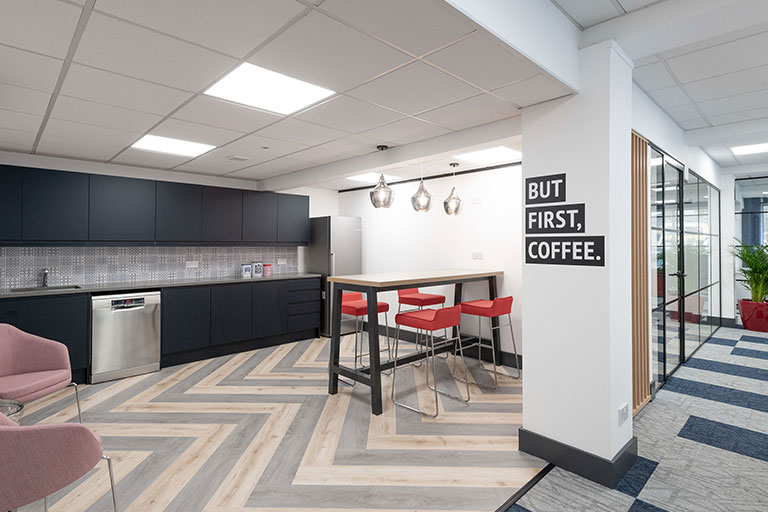 Project 4: Benefit Breakout Space
For Benefit Cosmetics, it was important for us to create unique breakout spaces on different levels, which was dependent on staff training through to client areas. Each space we created was always on-brand in terms of colours and quirky details, but each room had the ability to be used for a variety of purposes. For many of the rooms, we loved incorporating statement wallpaper and adding the multifunctional pretty and practical pouffes for comfort.
Project 5: Derivco Breakout Space
Derivco provided us with a brief to focus on creating a space that encourages staff wellbeing and welfare, so with this in mind we created a stunning retreat for them to enjoy! The themed breakout space consisted of creative rooms and a large golf putting green to help stimulate the creativity of the software designers, coders and all members of the UK team.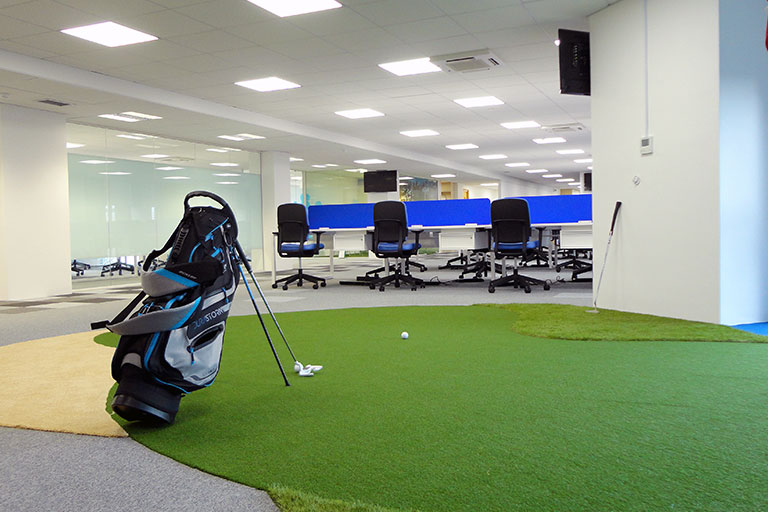 Create a Unique Breakout Area with Spacio
Feeling inspired? Stay tuned for our next feature of breakout rooms, including some new and exciting projects!
Does your breakout space need a total refresh? Get in touch to find out how we can help you achieve your dream breakout room today!