News
Spacio Talks To: New Homes Law
New Homes Law's vibrant office space is fun, quirky and collaborative, a true reflection of their brands' vision. The design shows off the business and its personality, with a nod to their history. Not only has the new office space helped raise staff morale, but it's also improved staff retention by 14% and seen a 15% growth in business.
In our latest interview series, we talk to Grant Noble, CEO of New Homes Law to find out how their new office design has impacted his business. Want to see the famous server shed? Or maybe you want to get an up-close look at the cherry blossom tree that is situated perfectly in the reception area? Take the tour of this amazing space in our latest video!
https://www.facebook.com/plugins/video.php?href=https%3A%2F%2Fwww.facebook.com%2FSpacioOfficeDesign%2Fvideos%2F217420062850585%2F&show_text=0&width=560

Has employee satisfaction increased since the new office design?
Employee satisfaction has greatly increased, everyone is walking around with a smile on their face and having a laugh which is really important here at New Homes Law. It is a stressful and high-pressured environment, so it's great to see the guys with smiles on their faces, enjoying their time at work.
What inspired your vision for such a vibrant working space?
Our inspiration for the working space that we have now, was just to be different. As a company, we're very different to other law firms. We really needed this to be reflective in the design so that our clients and our other stakeholders within the organisation truly recognised that.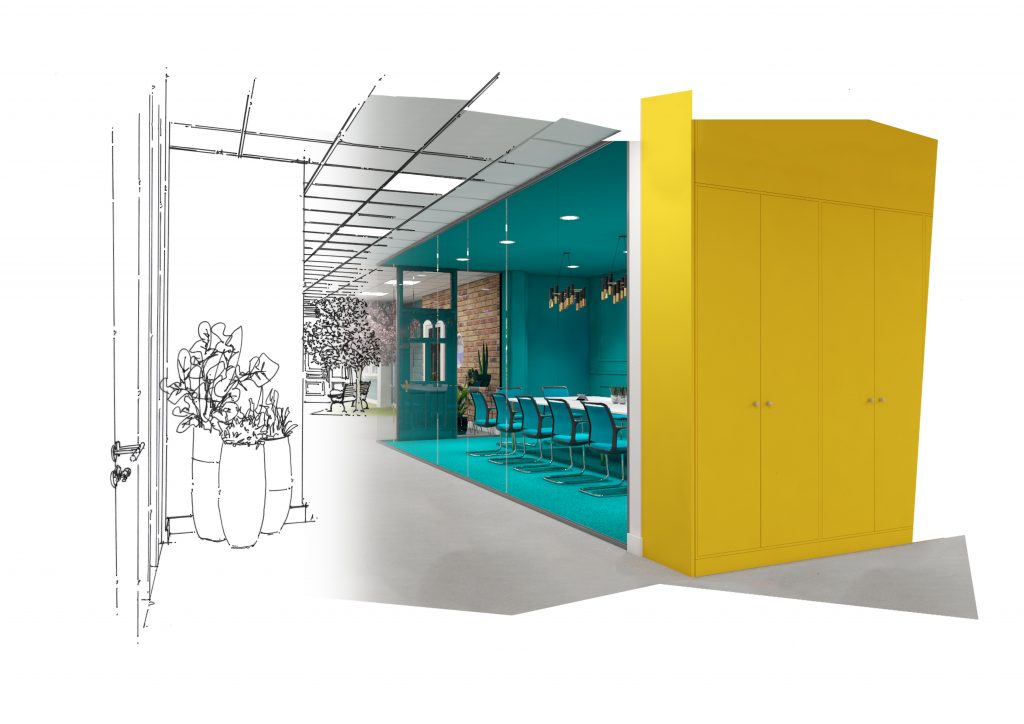 Have productivity levels increased?
Productivity levels have really increased. The space allows our guys to not necessary be chained to their desks. They can pick up their laptops, go into the various meeting rooms we have and the different workspaces, allowing them to be a lot more productive in their day to day working at New Homes Law.
You wanted a space that showcased your business, and the personalities of staff… do you think we delivered this?
Spacio created a great working environment for us to showcase to our clients. We now offer training days to our developers and housing associations, where they come into our office and we will teach them about the conveyancing process. This is something we certainly couldn't have done in our old office. The new design has allowed us to grow the business and to retain housing developers and housing associations.
Have you noticed more opportunity to communicate and collaborate?
With the new working environments and the various meeting rooms, this has allowed us to communicate not only with our clients but with potential new recruits. We now currently do a video conference with any potential new recruits at New Homes Law which is fantastic, this is obviously something we didn't have in the past. We don't need to attend as many meetings now, we deal with Bellway up in the north east where we use our various rooms video conference.
Let's talk about the server shed – do people love the concept?
The server shed – whenever we show people around it's always a good talking point. The comms room in any office space is usually very dull and boring and this is now a real focal point within the organisation, people just love it and comment on it all the time.
Are the cosy breakout areas a hit with your staff?
The staff love the cosy areas, especially at lunchtime, it allows they get away from their desk and have their own time, and space away from the very busy, high-pressured environment.
The reception area we designed certainly makes a statement. What are your clients first impressions when they are greeted?
The reception area is a key area for us. It's the first point of contact for all our clients, developers and housing associations. Every time someone comes here, we get a massive wow, which is really important for us. From the moment they walk into the office, the first thing they are greeted with is everything New Homes Law stands for.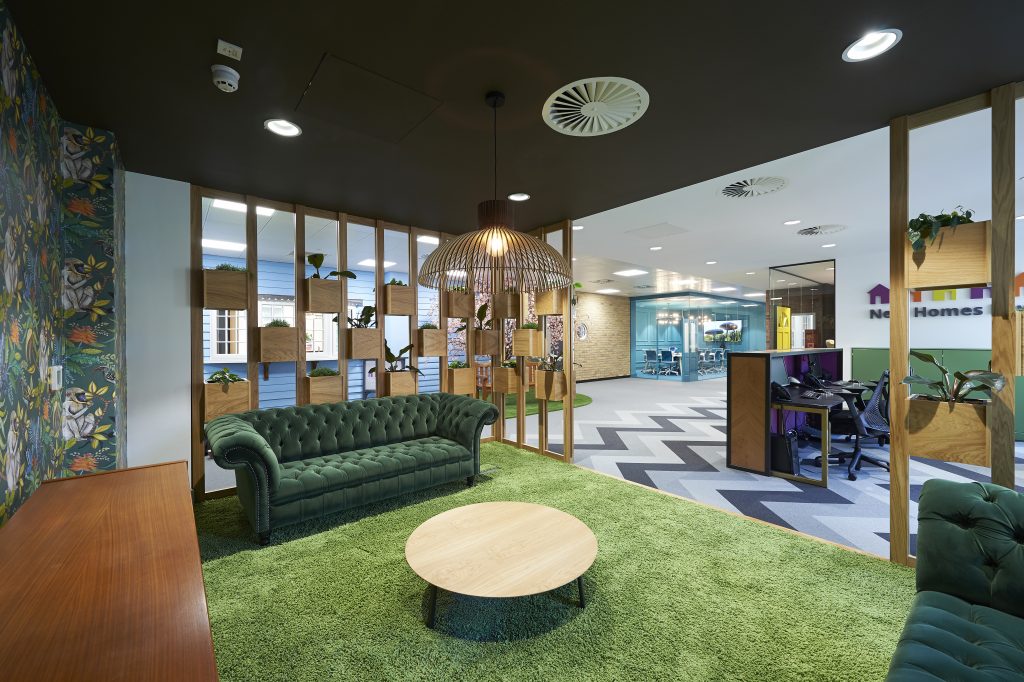 If you could pick one favourite element of the design, what would it be?
I would have to say it's my office. As soon as I'm in there it feels like a home from home. It's very comfortable and a great working environment for me to relax in and get on with the day's work.
What would you say is the most popular room in the office?
The most popular room in the office would be the breakout area. This is a great place to come and let the guys have a break from their very busy day at their desk. Every Friday we do a free lunch for everyone. It's a wonderful place for everyone to sit down, have a chat and talk about what they are going to do over the weekend.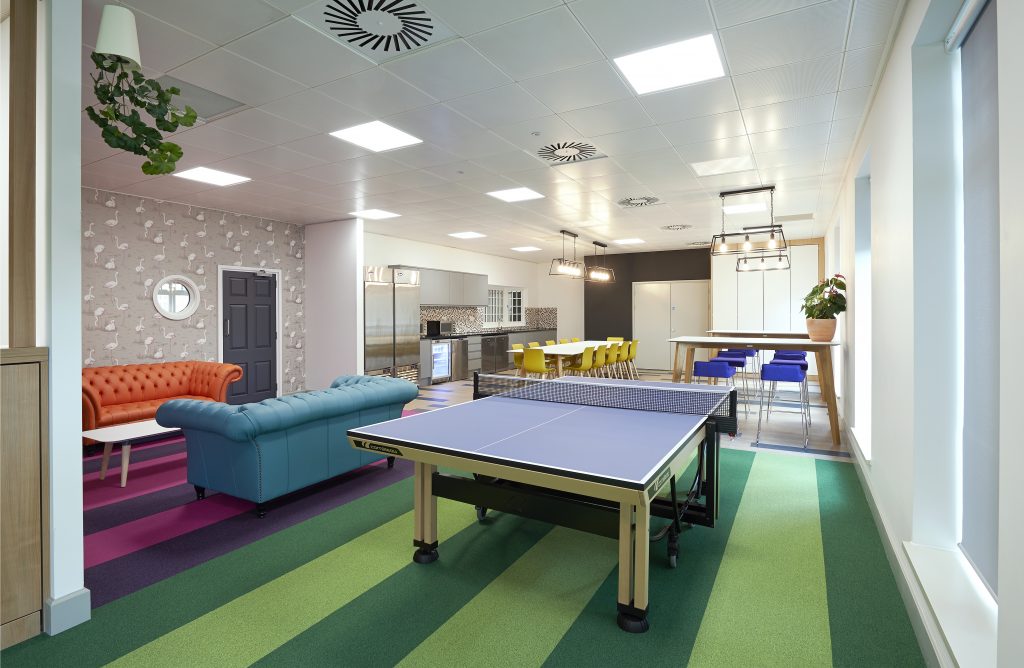 Was it always the plan to have such a fun and quirky space
It was always the plan. This is very much what Claire and I wanted, it was a vision for the company. We're just not like any other law firm. I myself don't come from a law background, so it allowed me to have that little bit of creativity with Spacio, they fully understood the brief. We're lucky today to be where we are.
Ready to see more? Why not check out our latest projects!