News
Spacio Talks: Office Plants with Planteria
The Benefits of Introducing Plants Into The Office
Numerous studies have proven the positives of having more greenery in the workplace, so why aren't more people incorporating greenery into their office environment?
Plants provide a number of benefits for employees, employers and visitors, including:
Reduced stress
Increased productivity and creativity
Reduced sickness and absence rates
The workplace becomes more attractive to job applicants
Cleans the air
Reduces noise level
Adding a little greenery to your office can have serious perks. From driving employee productivity and happiness, to purifying air and adding style to the workspace. We caught up with the leaders in biophilic designs, Planteria, who talk to us about the benefits of bringing plants into a commercial environment.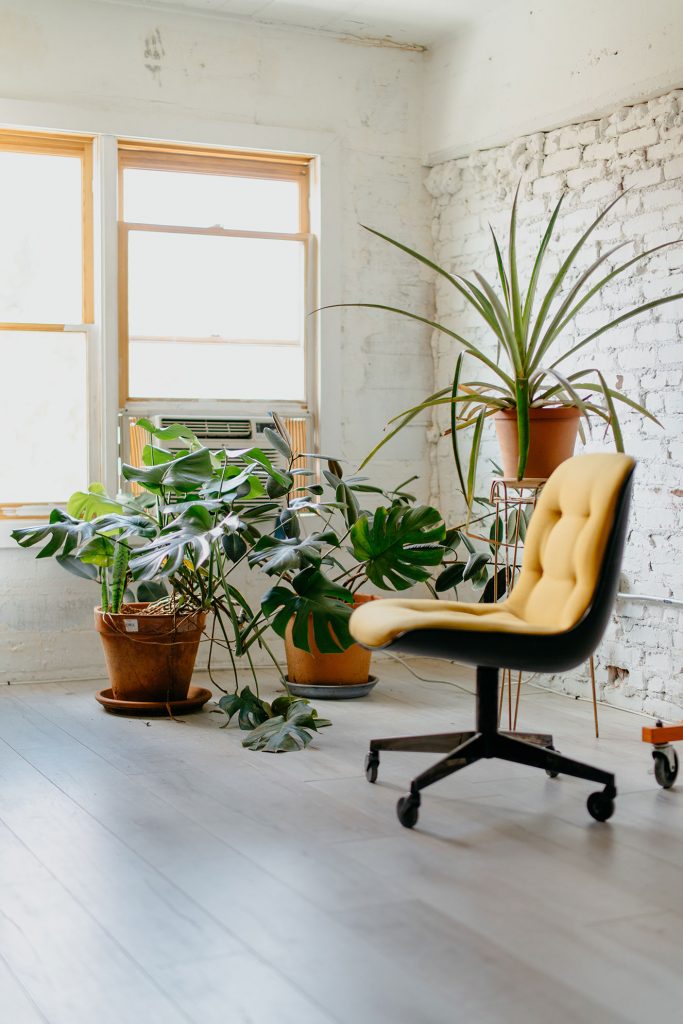 Feel Happier, Calmer and Less Stressed
Offices with plants make staff happier and more productive than 'lean' designs stripped of greenery, new research shows. Research also shows that when plants are introduced into the workplace, there is a drop in tension, anxiety and fatigue. Humans have an innate love of nature (known as Biophilia) and a need to seek connection with it, so having plants around us creates a more natural and nature-linked environment. This in turn make us feel happier and calmer, which also helps to combat stress!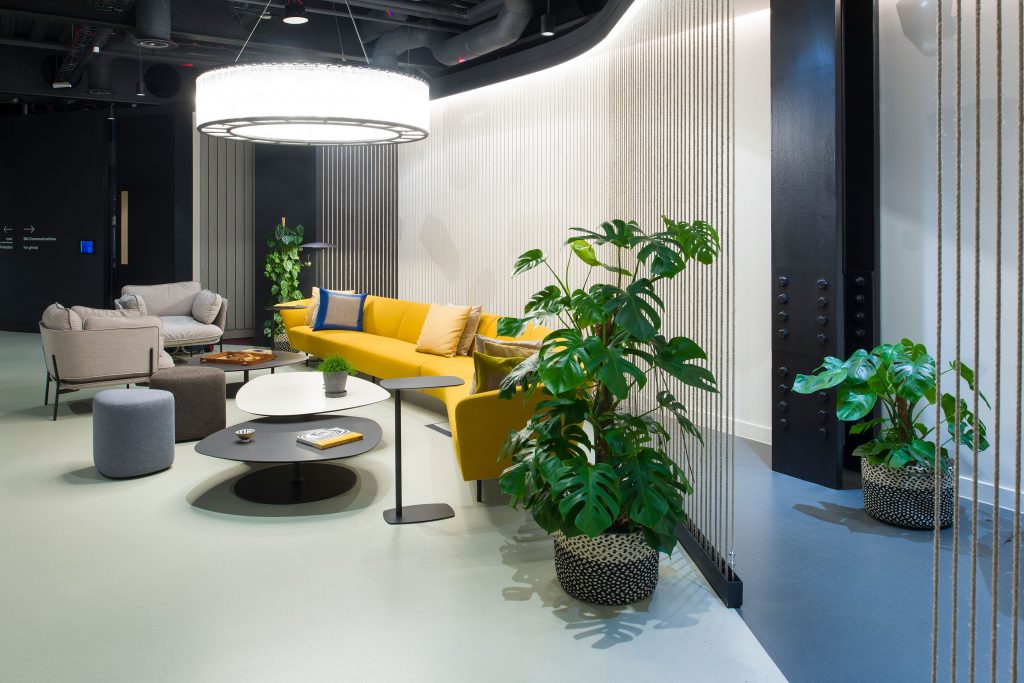 Clean Air
Whilst we need oxygen to survive, plants absorb a gas that we don't need – carbon dioxide – and combine it with water and light to produce energy. This process enables plants to clean the air, removing VOC's (volatile organic compounds) which can come from furnishings, printers and computers.
Having plants in your working environment can improve air quality and employee's health. Plants that are particularly renowned for these purifying abilities are; Peace lilies, Aloe Vera, The Spider Plant – which is having a bit of a renaissance-moment, English Ivy and also Eucalyptus which Planteria often use in their cut flower displays.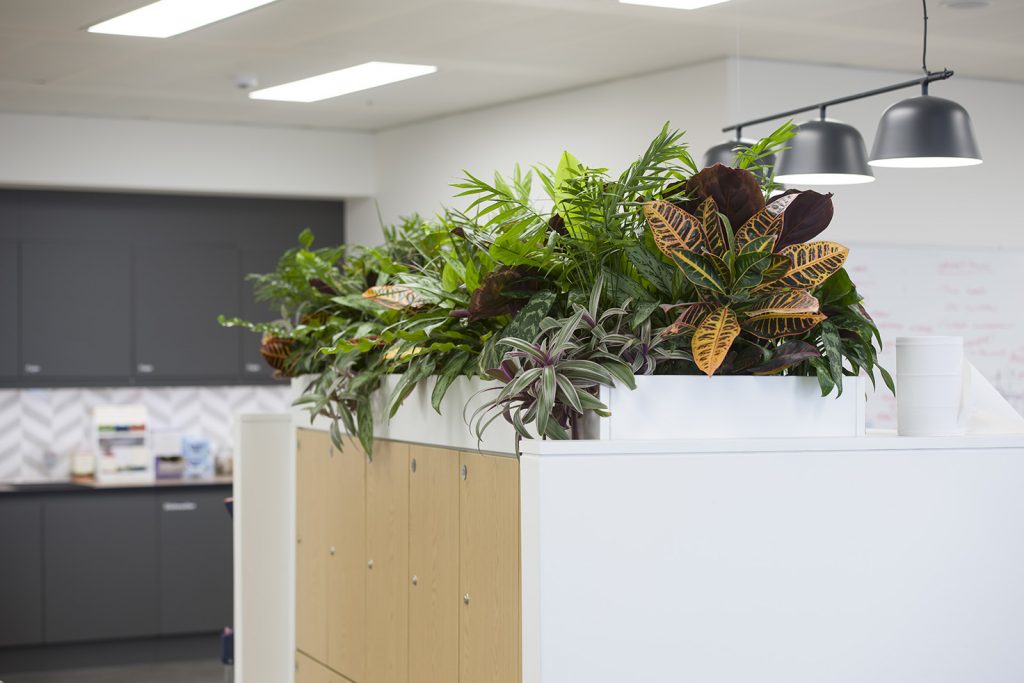 Increase Oxygen Levels
As a result of plants in a commercial environment being able to clean the air, your employees and visitors will be able to enjoy increased oxygen levels.
Plants can help to humidify the air and increase oxygen levels, which can be really useful if:
You are working in an air-conditioned environment
Suffer from dry eyes and sore throats
You are in a room where you cannot open windows for fresh air, or where there may be air or noise pollution outside if you do.
The key is to make sure that you have plenty of plants in your workspace in order to encourage cleaner air to breathe in.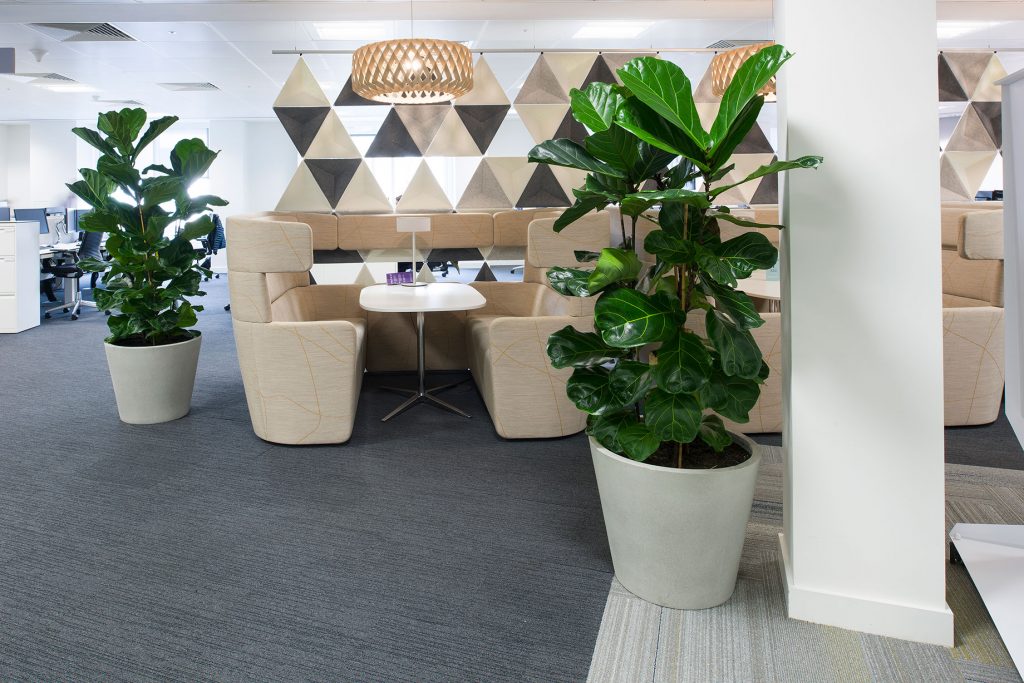 Absorb Sound
Perhaps one of the least known benefits of having plants in an office or commercial environment, is that they absorb sound.
By absorbing sounds (rather than insulating against noise pollution), plants help to reduce the distracting effects of background chatter. If you work in a noisy office or you have lots of hard surfaces, adding plants to your cabinet tops will help to absorb sound. Plant parts such as the stems, branches, leaves and wood all factor in the way sound is absorbed around the office, as can the substrate in the troughs and planters.
Enhance any Environment
Plants give spaces that wow factor. They look beautiful and enhance any environment, adding a natural element and softness. If you have no space, that's no problem! You can practically add plants anywhere, from the top of filing cabinets, to desk plants and hanging wall planters.
The Best Plants For The Office Environment
You'll need to be careful when selecting plants for the office because not all plants will love to live in an office environment. You will need to consider restrictions such as the availability of daylight, and how often they can and will be watered and looked after. The best kind of plants that thrive in a workplace include succulents (which include aloe and cacti), rubber plants and peace lilies.
Transform Your Workplace Into A Botanical Masterpiece With Spacio
Are you ready to transform your workspace into a world full of botanicals? Not sure where to start with office plants?
With over 40 years' experience in the industry, we take great pride in transforming offices and commercial spaces into a welcoming and fun place to spend time in. We work with both large and small clients in the UK to develop working environments to enable employees to flourish and boost productivity and creativity.
For more inspiration, why not catch up on our Office Design Trends 2020 feature, where Planteria talk about the office plant of 2020 along with other trend predictions!