Office Refurbishment Essex
Spacio are market leading experts in office refurbishment in Essex, allowing you to develop a highly functional working environment which allows your team members to thrive.
Our office refurbishment team will create and deliver the perfect design for your new space, working closely alongside you to understand your unique requirements and develop a bespoke interior for your organisation.
Calling In Our Office Refurbishment Specialists
You'll know that it's time to refurbish your existing office space, as soon as you have those nagging doubts about the interior. There are multiple reasons why you might feel that now is the right time to carry out your office refurbishment in Essex. If you feel embarrassed to invite clients to visit your premises or are aware that your competitors boast a more contemporary look, then it might be time to have a rethink.
Equally if you've recently rebranded your company brand and your current office interior doesn't match the colour scheme of your new marketing materials, then you might wish to make some simple adjustments which our office refurbishment professionals can advise on.
Another compelling reason to refurbish your interior is if you're part of a growing organisation and you need to create capacity for a growing workforce. This might include adding electrical wiring and assessing other technical needs as your business expands. Spacio can assist whether you're remaining in your current workspace or relocating to a new office. The goal of our office refurbishment service is to design an engaging interior to motivate and retain your employees.
Of course, we understand that not all of our clients know exactly what they're looking for from their next office refurbishment project. In this case, we'll simply ask some questions about your current daily operations so we can understand your goals and the challenges you face.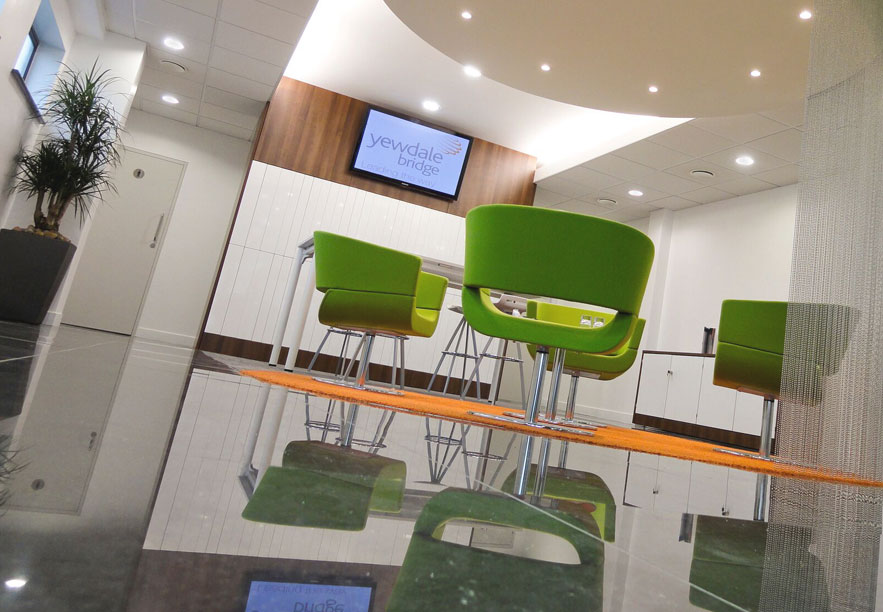 An Office Refurbishment Can Help To Retain Your Best Staff
Many organisations are surprised to learn the power that intelligent workspaces have when it comes to retaining your best team members. Spacio have over 40 years of experience in the office refurb industry, and we're aware that when employees feel 'stuck' and suffer a lack of productivity, then a change of direction with your office interior can be just the thing that is needed to inspire and motivate them once again. If your workers have previously felt annoyed that they have no space for their equipment or have to fight to book a meeting room, then it's time to call in our office refurbishment team ASAP so that you can avoid a reduction in their output levels. When you set our specialists loose on your office refurbishment, you can be assured that we'll create a bright, contemporary design with clever technology and storage solutions for your entire team to benefit from.
How Our Specialist Refurbishment Team Work
When you book a design consultation with Spacio, you can be assured that we'll listen to your precise needs. Before we even start planning and designing ideas for you, we take the time to get to know the individual personality of your organisation. Only once we have gained an understanding of your company culture will we begin to come up with some ideas for you to peruse.
Spacio completely respects the budgets of each company that we work with and will be entirely transparent with the costings of each project. Our existing clients have saved as much as tens of thousands of pounds on a single refurbishment, purely because of our efficient process and attention to detail. In some cases, some affordable changes in ergonomic furniture and a modification of your current layout are all that's needed to completely transform your office.
Our office refurbishment team in Essex will creatively present their ideas to you using visual tools including mood boards, modelling and conceptualisation so you can be entirely wowed about the interior design you're working towards.
When it comes to installation, Spacio is committed to delivering your project on time and on budget, so as to minimise any disruption to your daily business operations.
Are you ready to get started on your next office refurbishment project? Our experienced and professional team are ready to take your call! Get in touch today and follow us on our social media to stay up to date with the latest office design trends.