Leading Providers of Office Design in Essex
Are you ready to redesign your office? Spacio can offer your organisation a highly experienced office design team, specialising in the fit out or refurbishment of your office, however large or small the floorplan may be! We can plan and design an entire fit out from scratch to maximise the space available and kit you out with an office that suits the mission and mentality of your organisation. Alternatively, if you're relatively happy with your current design, we can suggest some simple design enhancements such as investing in ergonomic furniture which can improve the productivity of your teams.
Spacio are industry specialists offering a variety of solutions for your office design in Essex. We're ready to get started on your next project!
Our Design Team Are A Cut Above The Rest
When you're planning your next office design project, you may be aware that there are a few companies offering to refurb or fit out your premises. Spacio are able to offer a higher standard of service to our competitors, purely because we work in a more personalised and therefore efficient fashion.
We actively avoid out-of-the-box design solutions, and instead take the time to get to know YOU. We understand that your brand is entirely unique which is why our Essex office design team strive to plan an entirely bespoke design to suit the personality of your company. We ensure that there's no mismatch between the interior of your offices and the character and values of your company. Your final design will be one that allows your brand's individuality to shine through.
Creating The Vision For Your Ideal Office Environment
We don't expect all of our clients to know exactly what they're looking for from their office design project. Spacio have vast experience in assisting organisations to determine the goals that they want to achieve from their design project. We regularly work with prestigious clients from a wide variety of backgrounds which has armed us with extensive experience in helping companies to achieve their office design dreams.
Do you already know what you're looking for in your next office design project? Perhaps you want to maximise floorspace, or provide additional tech facilities to futureproof your company? Alternatively, maybe it's just time for a revamp so you can welcome your clients and visitors to a modern, contemporary office space that has the 'wow' factor.
Whatever your aims are, our office design team in Essex will always begin by gaining a thorough understanding of the way that your teams work with each other, day in, day out. We'll want to learn what challenges you're likely to face over the next decade. Our office design specialists will then be able to find multiple solutions to the problems you're facing as an organisation.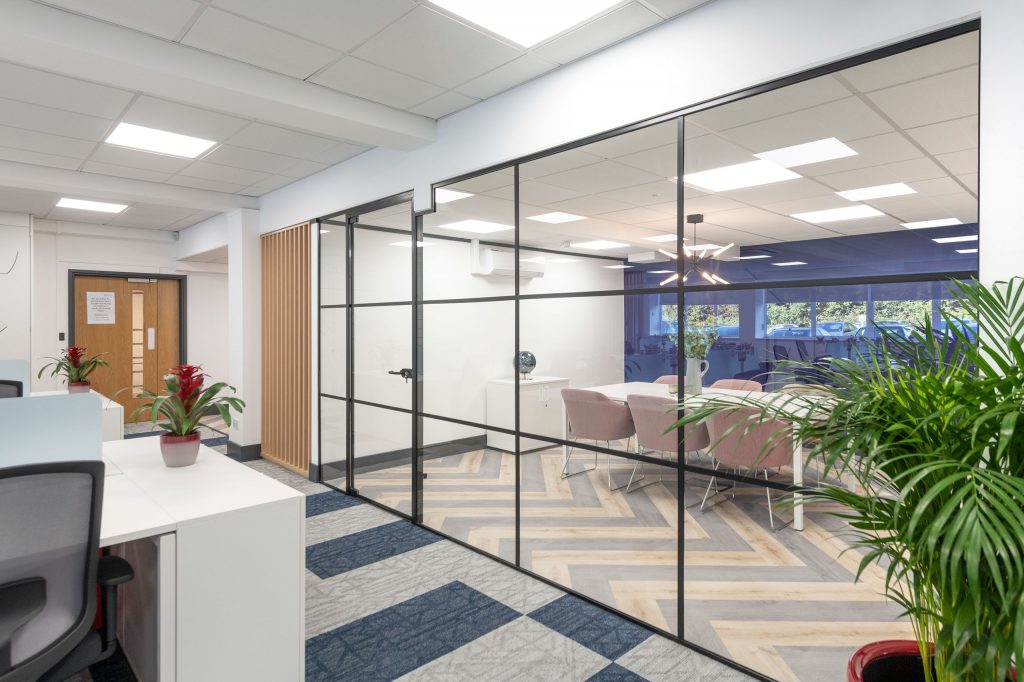 The Planning and Design Process
Our office design team will always begin by putting together a brief with project outlines for you to review. We'll then create a range of exciting visuals for your approval – this is a fantastic way for you to imagine exactly how the finished project will look. Depending on your preferences, we can present you with mood boards, furniture selection options, 3d modelling and other types of conceptualising so you have a rich overall picture about your office design in Essex. Our pricing is always transparent, so you'll have a clear idea of the numbers.
Choosing Spacio as your Office Design Essex Team
Our team of office design professionals are committed to completing your project installation on time so as not to cause any upheaval to your business operations. We're also dedicated to keeping on track with your budget so there aren't any financial surprises at the end of the project. In fact, some of our previous customers have been able to save tens of thousands of pounds by working with our experienced team of specialists.
Are you ready to find out more about how we can help to transform your office space? Get in touch with our expert office design Essex team today and we'll be happy to book you in for a consultation. Follow our social media to stay up to date with the latest office design solutions.