News
Spacio Talks: Happy Working Environments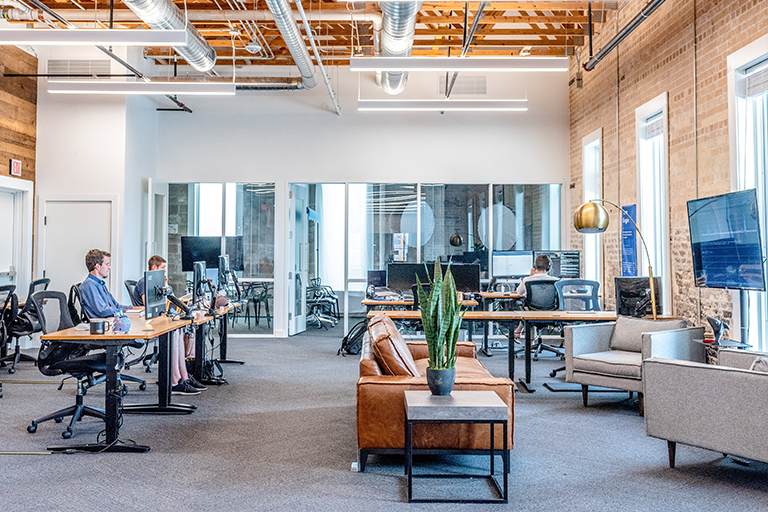 Happy employees are up to 20% more productive than unhappy employees, and according to a recent study by Forbes, office wellbeing is going to be a huge focus this year. So, how do you create a great working environment that actively promotes employee's happiness?
How To Create An Office Space That Impacts Employee Well-Being
Well, a happy employee is a productive employee after all! As a business owner, there are a number of things that you can do to design and create a work environment to help improve morale and boost productivity, including:
Invest in comfortable office furniture to create various zones, including breakroom furniture, hot desks and focus zones for staff to relax in.
Ensure that there is a comfortable office working temperature so that people can work effectively.
Give staff the opportunity to personalise their own desks to help them feel like -they have their own personal space that they can enjoy spending time in.
Add plants into a room to create a happy working environment – a splash of colour and new life into a working environment can provide a whole host of benefits!
It's time to put the focus on intelligent office design and put the needs of your workers first. From aesthetically pleasing elements to collaborative spaces, staff privacy and promoting movement, there's so much to consider when it comes to create a happy working environment for your employees to enjoy spending time in.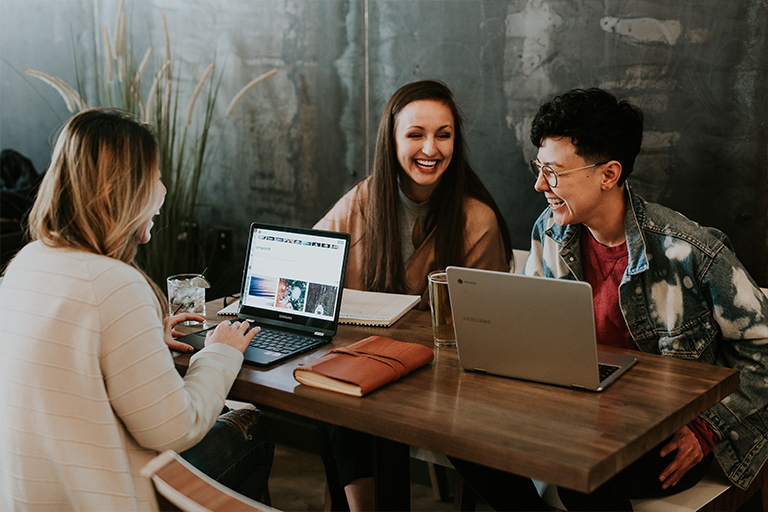 Aesthetically Pleasing
Employees want that feel-good factor when they turn up to work and with an inspiring workplace, moods will naturally lift. According to Clutch Co's findings, 61% of employees value an aesthetically pleasing and comfortable workspace. As office design experts, we know how to make an office look cool and trendy, but ultimately, the focus should be on making the environment adaptable for your worker's, ensuring productivity levels and well-being is at an all-time high!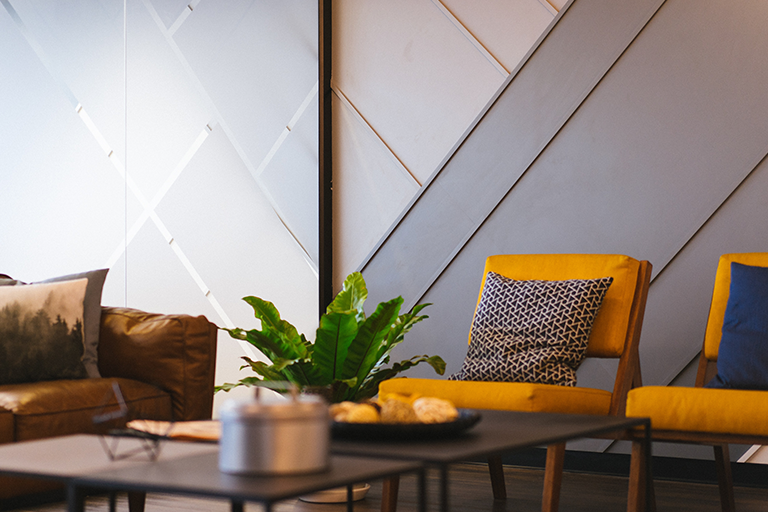 It's a no brainer that employees who experience good working conditions, will naturally be happier. Many studies have shown that happy employees have much higher productivity levels – but that's not all! Forbes also state that 37% are better at selling, and display 3x more creativity than unhappy employees.
So, how can you unleash the power of productivity through aesthetics? If you consider these factors below, you can start to shape your employee experience:
Introduce natural materials into your office design such as wood, stone and slate.
Focus on office lighting and how it effects employee wellbeing from moods to sleep cycles and alertness.
Consider how wall colours make your employees feel. Will you use warm or cool tones? Choosing the right accent colours shouldn't be overlooked, and will help to stimulate your staff.
Bring the outside in with plants! Plants create a more natural and nature-linked environment, helping to reduce stress and increase productivity.
Air quality is not to be ignored! Having poor air conditions can have a negative impact on your workers. So it's imperative to have a great ventilation system in place to ensure the room has a constant supply of fresh air.
At Spacio, we like to include personal quirks that represent your brand around the office. We're here to help tell the story of your company, automatically making staff feel connected on a personal level. You can see how we did this in our latest project for Alpi.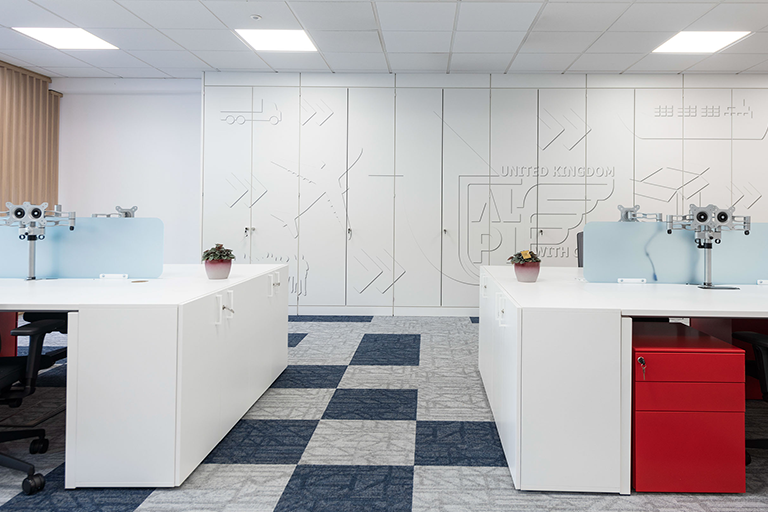 Keep on Moving!
Sitting at a desk all day can make you feel really sluggish, uninspired and less productive. Not only does promoting movement help with posture, but it's also great for communication and starting conversations. To keep things interesting, why not switch up working areas with standing desks and high bench hot desking? This will encourage conversation and creativity, and will certainly help people to remain alert and energised!
Hot desking isn't going to be everyone's thing but having a designated high bench hot desking communal area encourages individuals to get away from their desks with their laptops and work at their own pace. Other areas in the office that encourage movement are breakout areas, private rooms to make phone calls, booths, small huddle rooms and other collaborative spaces. Having these designated areas creates a community, empowering employees to mix up their working routine, collaborate, and motivate themselves.
Quick fixes to get people moving can be narrowed down to simple things, such as the positioning of the printers and photocopiers.
There are some amazing products out there that offer smart solutions, one that's recently caught our eye is A J Products, who offer desk bike chairs, Pilate balance balls and plenty more!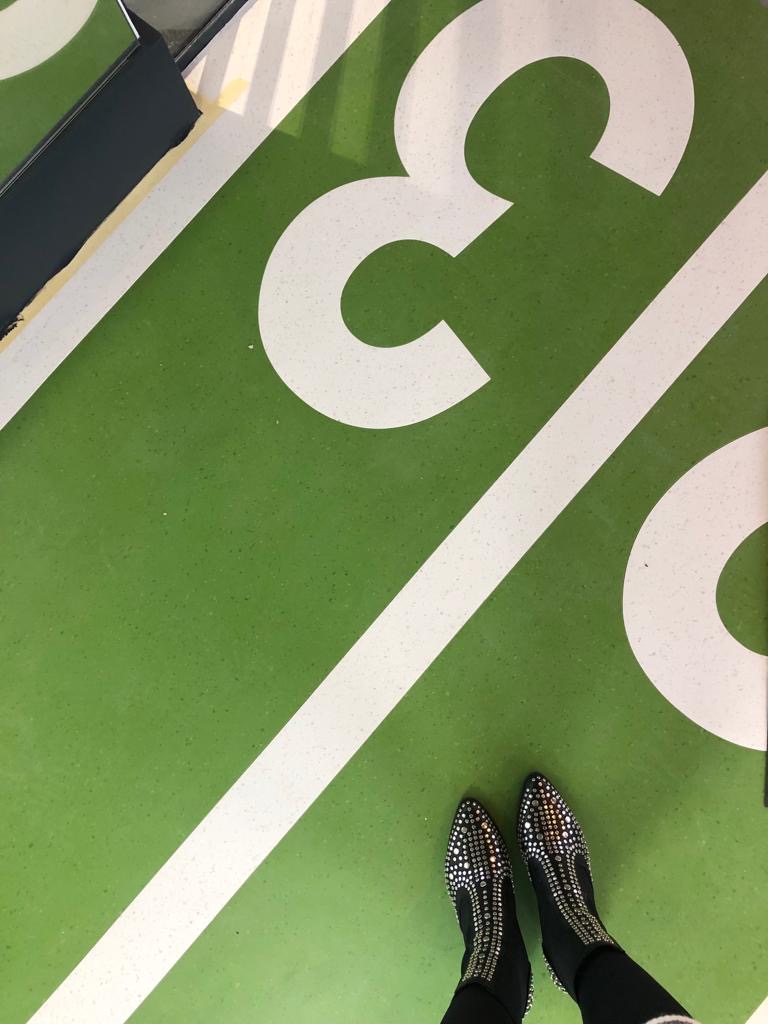 We recently installed a running track in our most recent projects for HRS, stay tuned to see the full project upload soon!
Breakout Area
The breakout area in the working environment is evolving. It's more than just a couple of chairs in a room and somewhere to eat lunch, it's usually the go-to destination when one o'clock hits. Employees need a designated area to get away from their desks, and the breakout area offers that change of scenery. This area is the place to promote great conversations, to chill in a comfy environment, taking employees' minds off the day to day grind. The breakout area isn't limited to just a lunch spot, it's awesome for collaborations, hosting meetings and one to one conversations.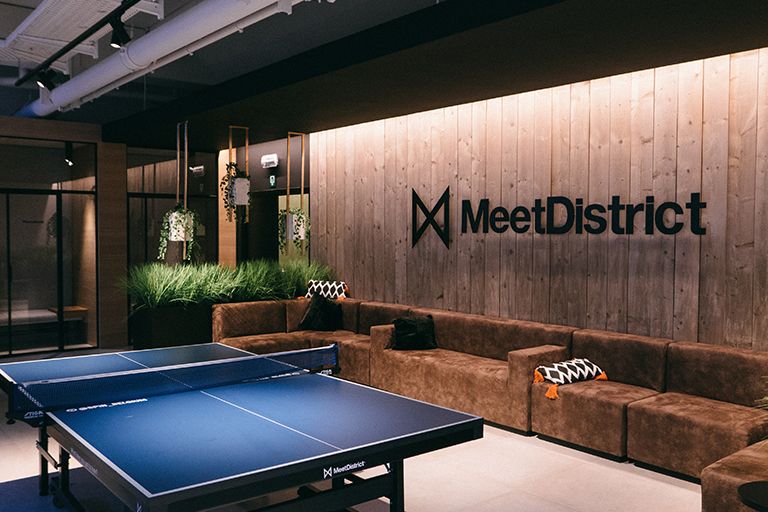 We mastered the perfect breakout space for Samsung recently, with cosy elements and a dark blue colour palette, which according to House Beautiful, purifies your thinking. This is the ideal area for a little quiet time…
To check out more of our breakout room designs, click here.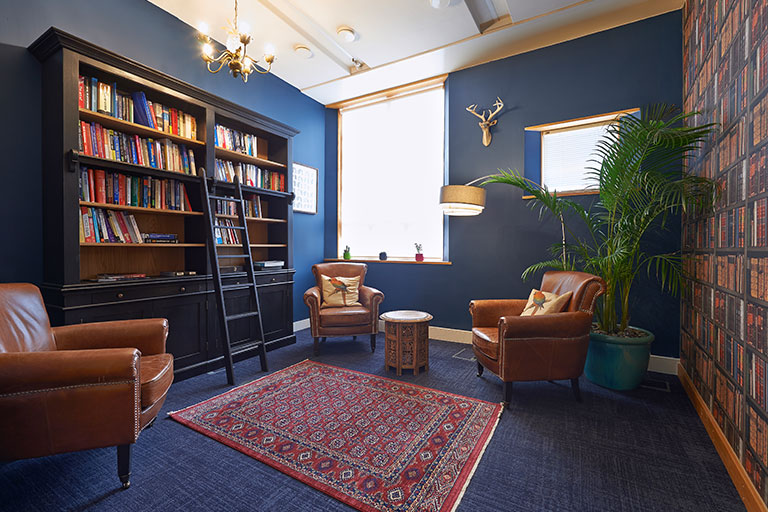 Privacy
Open-plan spaces often trend in office design, but it comes with its drawbacks. When we spoke to BuzziSpace, they discovered some of the most recurrent issues come down to noise, bad acoustics and lack of privacy. Acoustics play a crucial part in office design, and when you are thinking about design elements, it should be at the top of your priorities. Think about sound absorbing elements such as wall panels, booths, room dividers and office furniture.
In our office design for New Homes Law, we designed soundproof rooms, ensuring conversations are kept confidential. Our client also wanted a space where staff could have a minute to themselves, so we created the ponder room, the perfect space to have time to yourself and gather thoughts.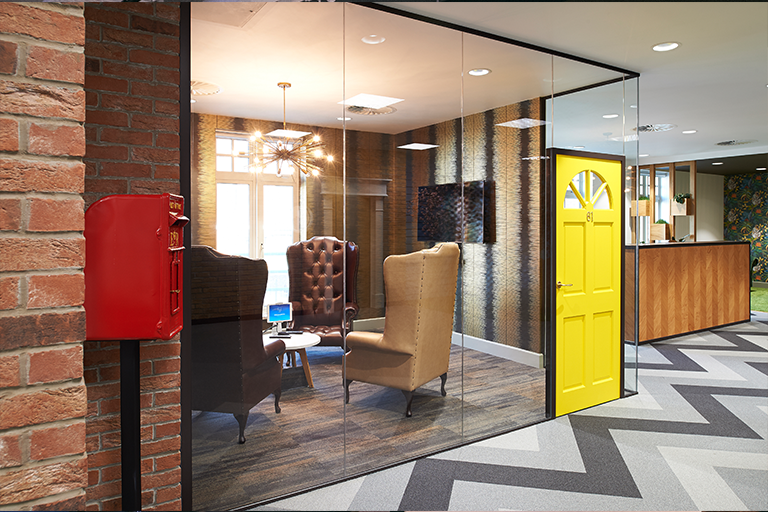 Allow Spacio To Transform Your Working Environment
Want some expert advice on how to create a happy working environment for your employees? Get in touch with us by email or call the team, we'd love to chat and help you create a positive workplace!