News
Spacio Talks: Greener offices – Just Add Plants
Greener offices – Just Add Plants
A guest blog for Spacio by Katie Le Chevalier, Planteria Group
The urban jungle, plant parenting, houseplants galore….  Have you read the headlines?  One thing I know for sure – plants are hot right now!  Anyone with an eye for design or interior trends will know that for the past two years at least, plants featured heavily.  Is this a trend that is here to stay? Or is this just the latest fad?
The Case for Plants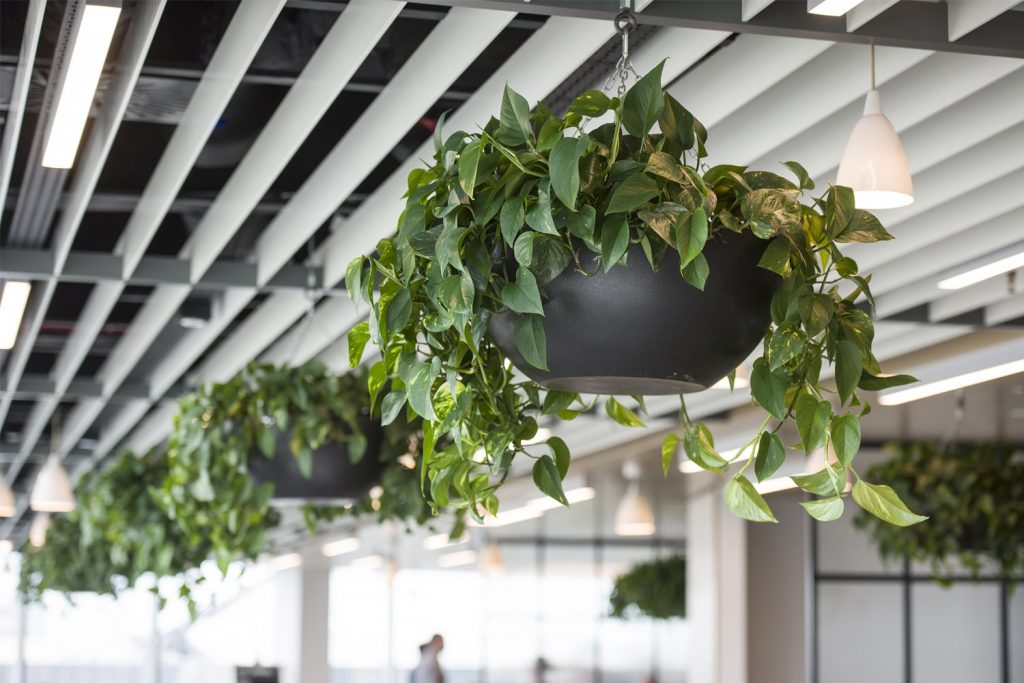 There are a few reasons why, I believe, including plants as a key element, in your corporate interior is here to stay.
During the pandemic, more than ever, people began to switch on to the importance of nature and our surroundings. The mental health foundation recently published results from research that showed one of our top coping strategies during lockdown was to go for walks outside, in fact 45% of us reported that being in green spaces had been vital for our mental health.
This period of forced isolation and working from home gave us all time to reflect on what is really important to us. Our own health, and the health of our planet suddenly became our central focus. In an article published in June 2019 the Guardian wrote that Briton's were more worried about climate crisis than the economy, crime or any other issues.
As human beings we have an innate desire to connect with nature, we always have, as we rely on it for our very survival. This fact together with the importance of sustainability and our desire to make positive changes and to be greener and healthier has led to a desire to incorporate more natural elements into our own environments.
The subject of sustainability, corporate social responsibility and biodiversity are closely linked and interconnected.  Businesses want to support the well-being of their staff they also want to outwardly display their green credentials.  Being good neighbours and the impact, they have on the local community as part of their Corporate Social Responsibility, including plants in their outside spaces to improve biodiversity and create a greener view and more attractive environment. Plants play a part in helping achieve all these goals.
In the UK we spend 90% of our time inside, partly because our weather can be grim, but also because many of us work at computers, which is still hard to do in the garden. Research shows that bringing nature inside and including it in our interior design makes us feel better, boosts our immunity and also makes us more creative and productive. 
Make it Fun, Get Creative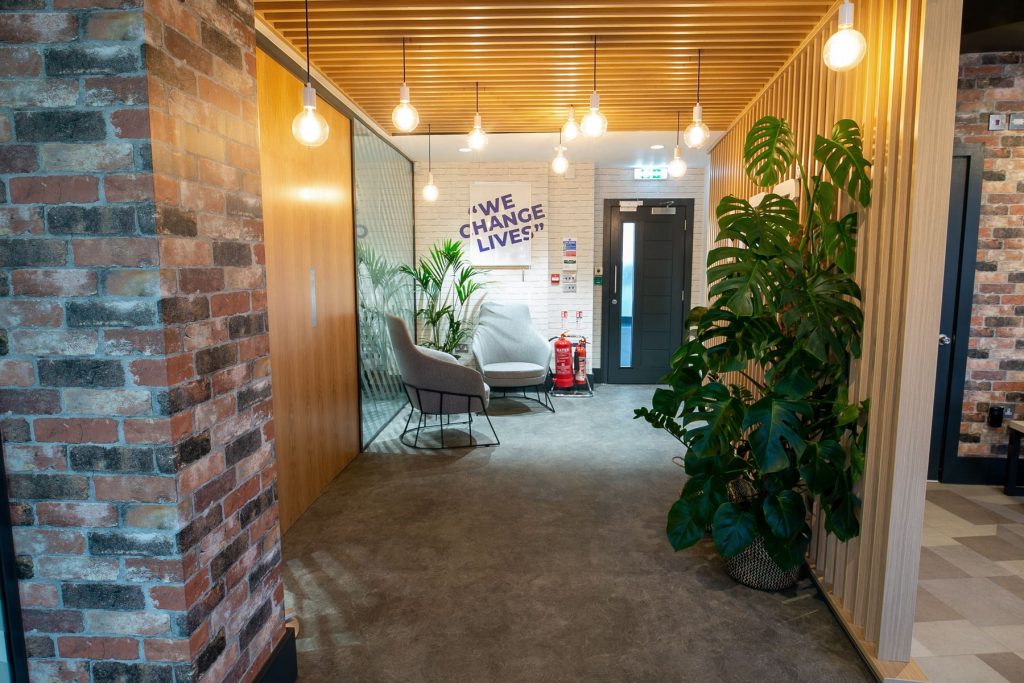 There are so many ways that plants can be incorporated into impactful commercial interiors. Spacio have some perfect examples of how clever design can be amped up by including plants.  Plants can be added to storage systems or other furnishings.   The green foliage gives the finishing touch of colour and nature creating a private oasis.
Plants can be dotted around to create a more homely feel and soften the overall aesthetic of a commercial setting. There are endless options, from wall planting and hanging planting, plants can be added to any space that needs livening up.
You can think of plants as you would soft furnishings.  Planters, pots and troughs come in every style and shape.  If you have some interesting, or even difficult corporate colour schemes to work with, planters can be sprayed in any Pantone colour.  For example, it might be difficult to work with a lime green paint job, or furniture, but lime green planters would give just the right balance and add those pops of brightness to tie your scheme together.
Cabinet top planting is another fantastic idea.  Bespoke-built cabinet tops can be fitted to existing cabinets, lined with waterproof liners, and planted with planting of your choice. This allows for swathes of beautiful planting to be seen from many angles in the office and has the added benefit of keeping your office clutter-free. We all know that cabinet tops can be a dumping ground for coffee cups and paper from the printer. Cabinet planting cleverly cuts down this possibility.
Real or Artificial?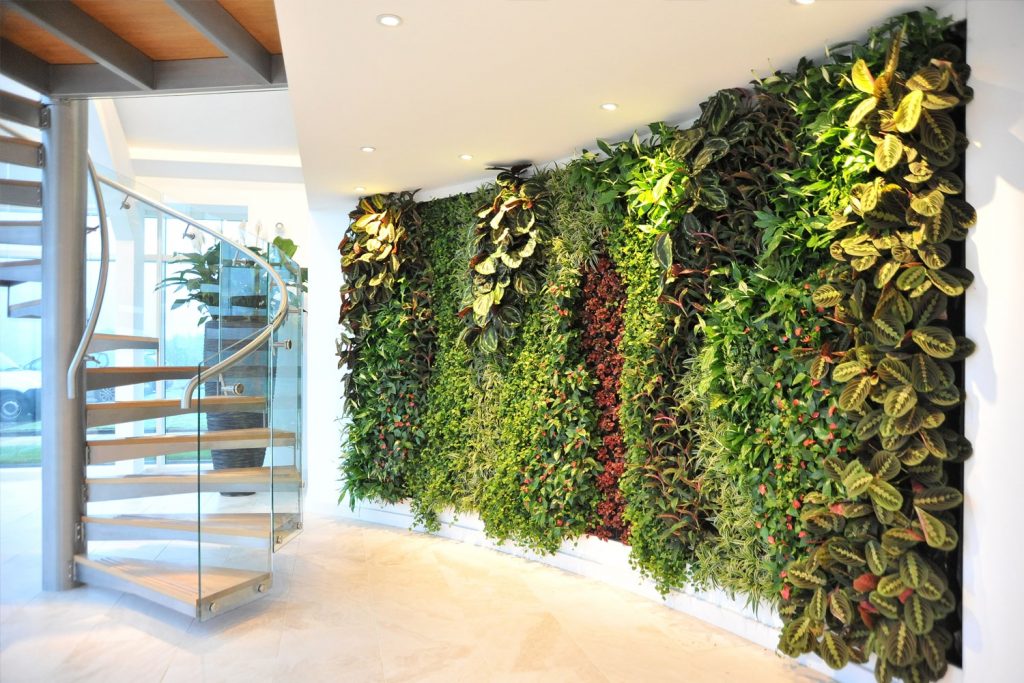 Real planting has many benefits, not only does it look beautiful, but having living plants in your office gives your staff that close to nature connection. Real plants provide other benefits too including helping to clean the air, provide extra oxygen, filter out VOCs that can be emitted from printers and furnishing, storing this in their substrate, and helps humidify the air.
If you choose to have real planting it is a great idea to opt for a rental and maintenance contract for your plants. By doing this you can spread the cost over a several years, and during your contract, you will receive regular maintenance visits by an expert plant technician who will take care of all your plants to ensure they always look beautiful.
Artificial planting looks very realistic and can be useful.  It is sometimes a sensible option, where planting is wanted for a difficult to access area or near to electrical fittings, where watering would prove dangerous. For example, artificial living walls can be put anywhere, require no ongoing maintenance, and are great for absorbing sound. For example, behind a reception desk this might be the perfect option.
Spacio work closely with Planteria, the experts in plants, to design the perfect plants into commercial interiors creating impact and lasting beneficial results.