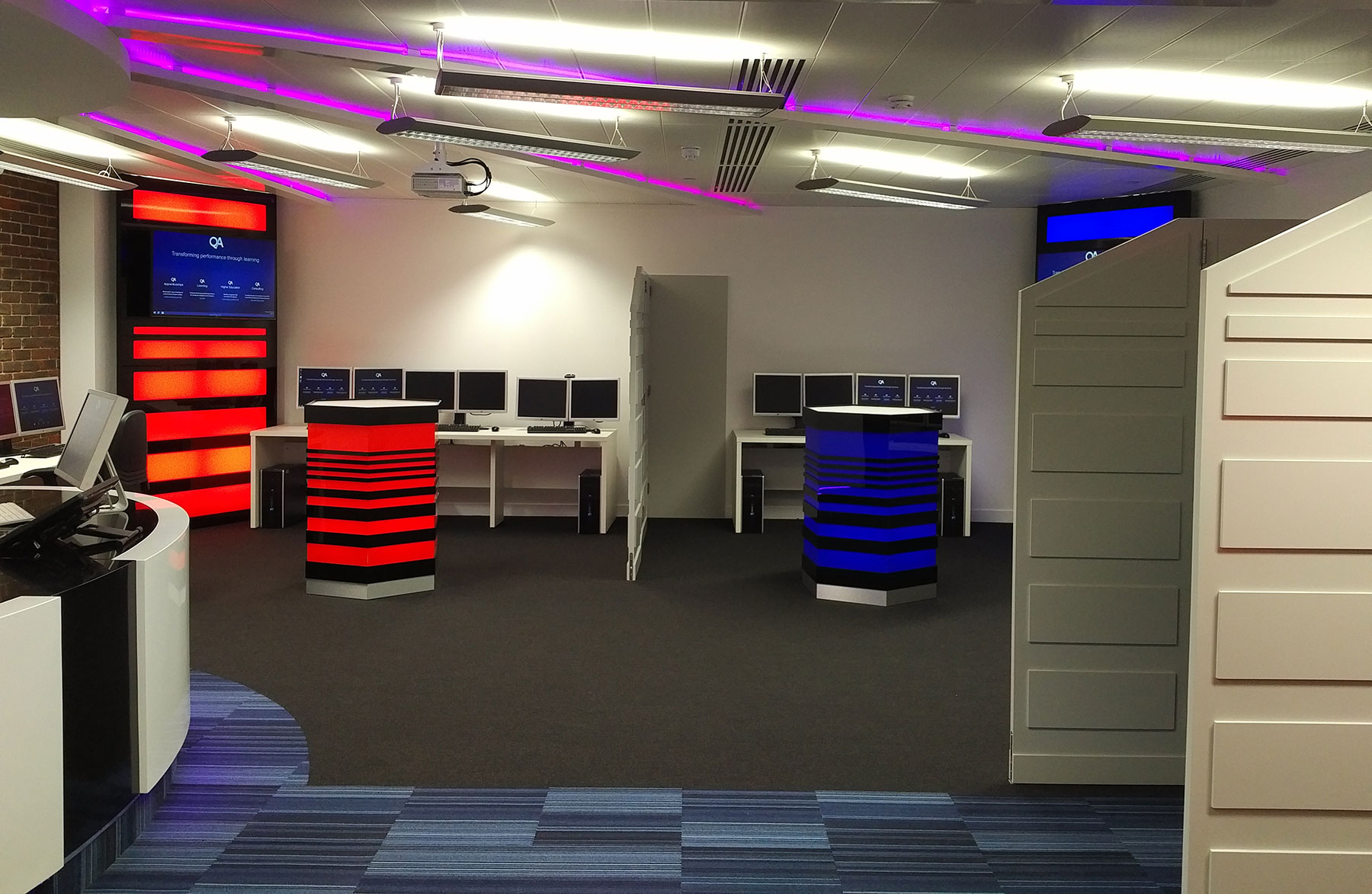 Spacio have extensive experience in Essex office fit outs across the county. Our office fit out team are passionate about transforming your premises into a stunning working environment for your teams to thrive in. So what are you waiting for? It's time to transform your office!
The Office Fit Out Specialists
Do you have a blank canvas of an office space which you need to convert into an inviting and productive space for your organisation? Whether you need a closed-door office environment, or plan to welcome clients and other visitors to your premises, we can create the perfect office fit out interior to run your daily operations from.
If you're daunted by the idea of the blank canvas and don't know where to begin, then a consultation with our office design specialists will quickly put you at ease. By understanding the values of your organisation, we can come up with a highly functioning design which allows your employees to thrive. It's important to understand the differences between a refurbishment and a fit out. Our fit-out team will convert an entirely empty shell into a working environment. This may be necessary if you're moving into a new-build office development, or if you've relocated to different premises and need to overhaul the design and layout of the building to suit your company's needs. Whatever your requirements, our team of professionals will ensure that your office fit out is a breeze from start to finish.
Customised Office Fit Out Plans
You'll find that our office fit out team at Spacio are committed and enthusiastic about your project. We simply love the challenge of creating a bespoke working environment for your company. Particularly when we're working from scratch, creating your Essex office has boundless possibilities and we take pride in coming up with a range of exciting layout and interior options for you to choose from.
Our office fit out Essex team NEVER work with out-of-the-box interior packages as we understand that your organisation will be entirely different to others within your sector. We take the time to get to know you and the character of your brand which is essential in creating a bespoke interior for your office.
When we begin our planning and design process with you, we'll start by listening to how you run your business and to learn a little more about the culture of your workplace. As well as including some necessities such as communal break-out areas and toilet facilities, we'll also determine whether you're drawn to an open-plan layout, or whether you need some quieter working spaces for meetings. Modern workplaces increasingly include informal, collaborative spaces, so we can discuss whether this idea is appealing to you also.
It's important to understand that there are no right or wrong ideas when it comes to your office fit out. It's all about creating the perfect working environment to fit the needs and values of your business!
An Office Fit Out To Futureproof Your Organisation
What challenges do you expect to face in the next five to ten years? Perhaps you're expecting to take on more staff? Or else maybe you might switch to a hotdesking environment or offer more flexible working patterns? You'll likely also wish to accommodate new changes in technology too.
Whatever the changes you anticipate, your designated office fit out team will ensure that your new design is versatile enough to cope with any largescale modifications to your working environment. This will allow you to save money in the long run and is one of the many reasons that our clients have such favourable feedback about us. In fact, some of our clients have been able to save tens of thousands of pounds due to the efficient and forward-thinking design choices we've presented over the years.
Whenever you're ready to start discussing your next office fit out project, we're ready to book you in for a consultation. Spacio have over 40 years in the office fit out industry; Having worked with a wide range of prestigious clients, we have a wealth of experience and are the perfect choice for your office fit out. Get in touch with our friendly and professional team today so we can start creating the office of your dreams or follow us on our social media for more office design ideas.